Welcome to Lostwithiel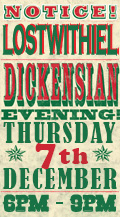 Join us for Dickensian Evening on Thursday 7th December, a night of traditional Christmas festivities and entertainment, seasonal food and drinks and late-night shopping.
See shopkeepers dressed in Victorian costumes, visit the museum and enjoy live music in the streets and in venues around town.
Follow the Advent window trail and enjoy the illuminated Christmas trees at this unforgettable event.
Read more about this year's Dickensian Evening.
This ancient stannary town (pronounced lost-with-ee-ul) dates back to the 12th century, yet it's one of the most vibrant and lively communities in Cornwall.
This website has been created by Lostwithiel Business Group which promotes the town and the local groups, businesses, services and trades which keep it and community thriving.
Whether you're here for the day or down on holiday, Lostwithiel is the ideal base to explore breathtaking countryside and discover the unspoilt beaches of south east Cornwall.
There's plenty of accommodation from hotels and pubs to cosy b&bs and self-catering cottages.
Antiques shops and regular fairs have made Lostwithiel the antiques capital of Cornwall while the wide range of independent shops provide everything from grocery and convenience goods to deli foods and gifts.
There are excellent restaurants and pubs plus an award winning farmers market. It's not just the shops which draw the crowds:
Lostwithiel's calendar is full of highlights such as LostFest, Carnival week and Dickensian Night as well as regular markets, vintage fairs and auctions.
Find us on the A390 and take advantage of the free parking or take a train to our mainline railway station located in the centre of town.
Look forward to seeing you!