Calendar of Annual Events
There are events which take place every year in Lostwithiel - some have been running for many years while others are newer, but they are all firm favourites in the town's calendar.
March - Lostwithiel Beer Festival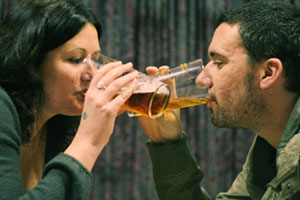 The Rotary Club of Lostwithiel has held a Beer Festival in Lostwithiel since 2004.
Although the festival helps to raise money for both local and overseas charities (around £15,000 in the first five years), the organisers still aim to offer exceptional value for money, with good ale throughout the day, international rugby on the big screen in the afternoon and great music and lively dancing in the evening.
For more information please see the Rotary Club website.
June - Lost In Gin
Come and celebrating Cornish Spirit and a plethora of Cornish Gins at Lostwithiel's Gin Festival, Lost In Gin. We have makers from all over Cornwall joining us, offering their wares, tasters and advice. There's a Gin Bar where you'll be able to choose your preferred gin from the menu, then choose the cocktail or tonic water you'd like it with. Discover your new favourite gin by the River Fowey under the canopy of ancient trees.
Read more about the gin festival, Lost In Gin
August - Sing Along the River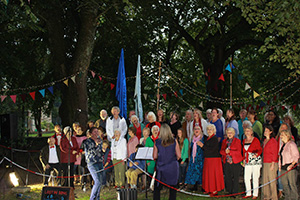 Lost in Song, Lostwithiel's much-loved community choir, hosts a series of music evenings next to the River Fowey on The Parade on Thursday evenings in August (if it's not pouring with rain). Food and drink available. Bring your friends and family, blankets and chairs. All welcome. FREE but there are collections for local charities and groups.
Visit the Lost In Song website
September - Annual Produce Show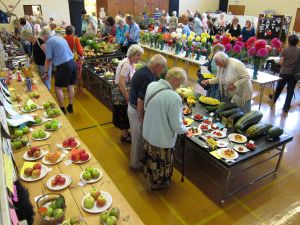 The Lostwithiel Annual Produce Show has been held annually since 1958.
It is run by the Lostwithiel Garden Society in conjunction with Lostwithiel Women's Institute and Lostwithiel & District Floral Art Group.
Read more about the Annual Produce Show
December - Advent Window Trail
During the Advent period, homes and businesses around the town with windows overlooking the road set up special window displays with a numbered window, which are illuminated each evening like an Advent calendar.
The windows light up consecutively each evening from 1st to 24th of December; by Christmas Eve there are 24 different windows to see and enjoy as you walk through the town - a great way to get into the Christmas spirit.
The Advent Window Trail has become an intrinsic part of Christmas in Lostwithiel, enjoyed by both towns people and visitors.
December - New Years Eve Giants
On New Year's Eve a buzzing carnival parade takes place in the streets of Lostwithiel to see in the New Year.
The tradition started in 1990 when a group of local musicians and craftspeople began making giants to celebrate the coming of the New Year. The New Years Giant Procession has become a significant part of Lostwithiel's identity and cultural heritage.
Starting at around 11.30pm outside the Kings Arms, the parade of Giants, drummers, pipers, carnival dancers and revellers makes its way down Fore Street, across the Medieval bridge and up Grenville Road to arrive at the Earl of Chatham around midnight. The parade then returns along the same route to finish with more music and dancing at the top of Fore Street.
May - LostFest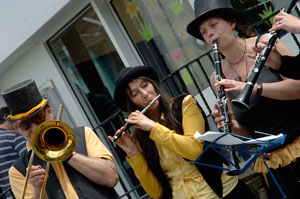 LostFest is the Lostwithiel festival of arts, crafts, antiques, music and dance for all the family held during May, at the end of the Fowey Festival of Words and Music.
The festival is a one day event which takes place at venues all over town from 10am to 10pm. There are hundreds of arts, crafts and antique stalls, musicians and entertainers plus activities, workshops and demonstrations for all ages.
July - Lostwithiel Carnival week
Running from Sunday to Saturday for week in mid-July with a different event happens on each night, the Lostwithiel Carnival is organised by the Rotary Club of Lostwithiel.
It comprises a Charity Fayre, Cricket competition, Rounders competiton, Five-A-Side Football competition, a Street Party with the ever popular Duck Race, the hugely anticipated Pram Race and culminating with a Parade and fireworks.
For more information please see the Rotary Club website.
September - Cornish Cider Festival
The Cornish Cider Festival held in Lostwithiel is an all-day celebration of cider and apple juice, with live music, talks and discussions about Cornwall's cider making and apple heritage, and a free fruit press for people to use to produce juice from their own apples. The event is sponsored by Sharp's Brewery and Cornish Orchard.
Visit the Cornish Cider Festival website
December - Dickensian Evening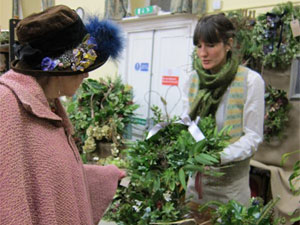 Get in the festive spirit with an Old Fashioned Christmas experience featuring late-night shopping and shopkeepers in Victorian garb, choirs, bands, craft stalls, roasting chestnuts and lashings of mulled wine.
The event starts with a lantern parade. Enjoy the annual Advent Window Trail and Christmas trees along the streets, a Victorian Father Christmas in traditional green robes, old fashioned Children's fairground ride, stalls selling festive hot food and drinks, carols and live music plus historic buildings open to the public.
Read more about Dickensian Evening
December - Christmas Pageant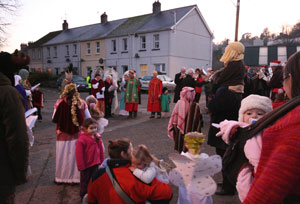 This annual colourful event was introduced to the town of Lostwithiel back in the early 1980's by Cornish Bard Rachel John.
Taking place during the second Saturday in December, up to thirty local residents dress up as various nativity characters and Cornish saints to form the pageant tableau.
Read more about Lostwithiel Christmas Pageant