Buses, coaches & trains to and from Lostwithiel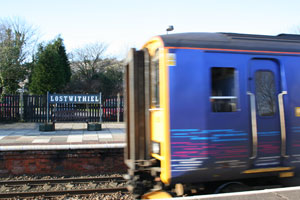 Trains and buses
Lostwithiel's train station is on the main line from London Paddington to Penzance.
A full timetable from 15th December 2019 to 16th May 2020 (Timetable K) can be downloaded from This link
GWR has issued a timetable showing all departures from Lostwithiel from 15th December 2019 to 16th May 2020. A pdf version of the timetable may be downloaded via this link.
Regular bus services to and from Lostwithiel are extremely limited. Details available on this webpage.
Lerryn Area Minibus
Volunteer drivers take the Lerryn Area Minibus from Lerryn via Lostwithiel to local towns, shops, garden centres and places of interest. Charges are very modest, and a phone call (01208 368393) books you a place. You can download the timetables here:
Did you know that the Lerryn Area Minibus Association runs a morning trip to St Austell on the last Friday of the month for a modest return fare of £3.00?
10 GOOD REASONS TO GO TO ST AUSTEL
ASDA
B&Q
B&M
Garden Centres
Halfords
LIDL
Pets at Home
TESCO
The Barnecutt's Café
BANKS!
For more information contact Annie on 01208 871272
National Express coaches
If you're travelling from further afield there is a National Express coach stop in the centre of town, outside the Royal Talbot pub. Coach services 404 and 504 between Penzance and London stop in Lostwithiel. Visit the National Express website to plan your journey.
Getting to Lostwithiel by Public Transport
Connections by rail are easy from towns with mainline railway stations.
From other towns a combination of trains and buses are needed. Journey routes and times may be calculated using the Traveline South West website.