Buses, coaches & trains to and from Lostwithiel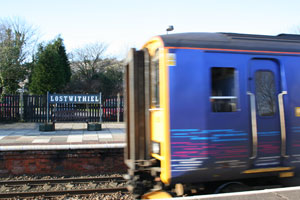 Trains
Lostwithiel's train station is on the main line from London Paddington to Penzance.
A full timetable from 15 May 2022 to 10 th December 2022 (Timetable K1) can be downloaded from GWR Website
See the GWR journey checker for the latest information and read more about Lostwithiel station
Buses
Bus number 28 to St. Austell is the only regular daily (not Sunday) buses serving Lostwithiel. View the bus 28 timetable and a detailed map of the bus 28 route and bus times
A printable timetable for the 28 / 428 bus service from 4th September 2022 may be downloaded from this link.

A few other sporadic infrequent services also operate. Read details of other Lostwithiel bus services.
National Express coaches
If you're travelling from further afield there is a National Express coach stop in the centre of town, outside the Royal Talbot pub. Coach services 404 and between Penzance and London stop in Lostwithiel. Visit the National Express website to plan your journey.
Lerryn Area Minibus
Visit the Lerryn.net website for the latest news
Volunteer drivers take the Lerryn Area Minibus from Lerryn via Lostwithiel to local towns, shops, garden centres and places of interest.
Timetables are delivered individually to Registered Passengers. Read about who can register for the LAMA bus and how to do so.
Did you know that the Lerryn Area Minibus Association typically runs weekly shopping trips to Bodmin & monthly to Truro & St Austell?

Getting to Lostwithiel by Public Transport
Connections by rail are easy from towns with mainline railway stations.
From other towns a combination of trains and buses are needed. Journey routes and times may be calculated using the Traveline South West website.