News
Purchase premium olive oil minus the packaging
Thursday 23rd February 2023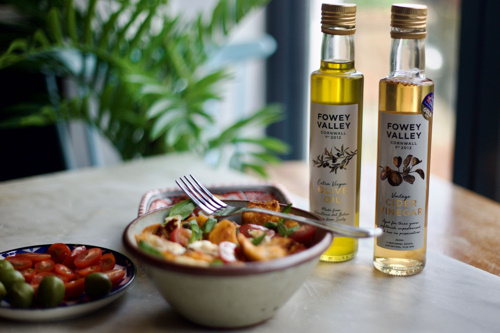 Fowey Valley Cider, a member of Lostwithiel Business Group, is offering to dispense premium Sicilian olive oil, as used by top chefs, into your reusable vessel of choice. Owner Barrie Gibson has received a special delivery of olive oil from the 2022 harvest direct from Sicily.

Every year the olive oil is delivered in large vessels and kept in these to maximise freshness until it needs to be bottled on to be sold. This year, as well as bottling some for his own shop and other local food stores, Barrie is inviting people to come and fill up their own containers saving unnecessary waste and reducing costs.

Barrie discovered the olive oil he now dispenses on a trip to Sicily when he was seeking out an oil to partner with his own Fowey Valley Cider Vinegar. He discovered that the suppliers of cork for his méthode traditionelle vintage cider also cultivate olive trees and these ancient groves in the Belice Valley are highly prized. The harvest takes place in October and the oil is extracted within 24hrs at the town press in nearby Castelvetrano.

The oil is then stored in sealed stainless-steel vats to preserve freshness. Smaller versions of these air-tight containers are shipped to Lostwithiel. The 2022 vintage is excellent according to Barrie, who describes it as: "Fruity with pronounced citrus notes. It's distinctively light, with hints of green apple, tomatoes and fresh almonds".

It's always best to enjoy olive oil when it's ultra-fresh and the flavours are most pronounced, which is why new season olive oil should be reserved for drizzling and dipping rather than for cooking.


Fowey Valley Cider, on the Restormel Industrial Estate, is open from 9am to 4pm, Monday to Friday. Simply bring along your container and pay by the litre reducing waste and saving money on the retail price compared to the bottled product.
For more information about Fowey Valley Cider see their website www.foweyvalleycider.co.uk.