News
Lostwithiel YFC complete charity tractor run
Sunday 27th April 2014
Lostwithiel YFC have completed their epic John O' Groats to Lands End journey in vintage tractors.
The journey started on 12th April in two old tractors - a Case 2290 and a Fiat 1300 Super - which were given to brothers Josh and Callum Stephens when their grandparents retired from farming. The pair decided to bring the tractors back to Lostwithiel in style, raising money for Cancer Research UK on the way.
They arrived in Land's End on Sunday 20th April after a grand homecoming to Lostwithiel on the Saturday night. So far £6000 has been raised, with support from YFC clubs up and down the country. In Penzance five tractors joined the Lostwithiel YFC for the final leg and a triumphant arrival at Land's End.
You can still donate to the fund here or find out more about the journey on their Facebook page.
Between 12 and 20 April, they ploughed through over 100 towns as they travelled 999 miles down the length of Great Britain from the northern most point of mainland Scotland to the tip of Cornwall. With a speed of 15mph, they completed the trip in a total of 9 days, taking it in turns to drive the tractors and stopping overnight in towns and at the homes of other young farmers from clubs around the country.
On 17 April they stopped off at the headquarters of the National Federation of Young Farmers' Clubs at Stoneleigh Park, Kenilworth to meet with other young farmers to raise awareness of their fundraising efforts. Finally they hit the home stretch, travelling through Somerset and Devon to Cornwall where they were meet in Lostwithiel by supporters that put on a home coming party. As they neared Land's End, they received a tractor escort from Madron YFC members. Finally Lands' End on Sunday 20 April where they were met by a host of key sponsors and supporters.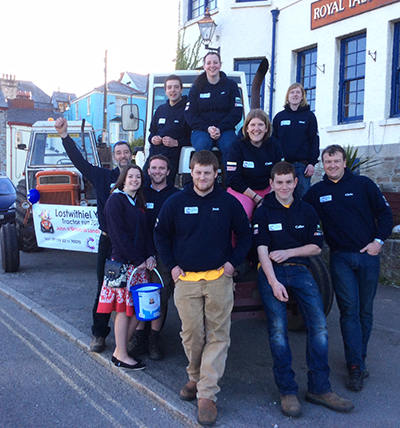 The idea for the challenge came about when 22-year-old club member Josh Stephens and his 16-year-old brother Callum were given two classic tractors by their grandparents who were retiring from their farm in Northern Scotland. The brothers wanted to bring the family heirlooms back to Cornwall and came up with the idea of a tractor relay as a fun way of transporting them that could raise some valuable money for charity at the same time.
The tractors are a rare Case 2290; a six cylinder, big two-wheeled drive, American-style tractor made in the 1970s, and a Fiat 1300 Super; a six cylinder, two-wheeled drive, one of only a handful of models in the country. The brothers plan to put them to light work on their mixed livestock and arable farm near St Winnow, with a view to keeping them in good working condition for shows.
The club is aiming to raise a minimum of £10,000 for Cancer Research UK and would like to thank their sponsors for their generous donations and these include Trewithen Dairy, Mole Valley Farmers, HRN Tractors, Morcom Construction, Haye Farm Cider, Lancare Contractors and Parc Signs. The club is also organising a Grand Prize raffle which will be drawn in September at the Lanlivery Vintage Rally where the tractors will also be on display. During the Summer the team will also be found at other local events and vintage rallies.
16-year-old Callum Stephens said: "It's been a really fun journey and we were delighted that everyone rallied round to support us every step of the way. Travelling all the way from John O'Groats to Land's End was amazing - my favourite part of the route was definitely over the Scottish highlands as the views of Glencoe were incredible.
"Whilst it was a very enjoyable experience, I am feeling relieved to have finished now. We're going to keep both tractors in good working condition, probably taking the Fiat to some shows, whilst the Case will come in handy on the farm."
Chris Hutchings Lostwithiel YFC President said "It's a great honor to be asked to be president of the
club and then to have this tractor run in my time and get to be a part of it is just amazing, I was privileged to drive one of the tractors in to Lostwithiel where the pavements were full of well wishers, I must say how proud I am of the members aged 10 to 26 years,for organizing this event and running it as well as they have,"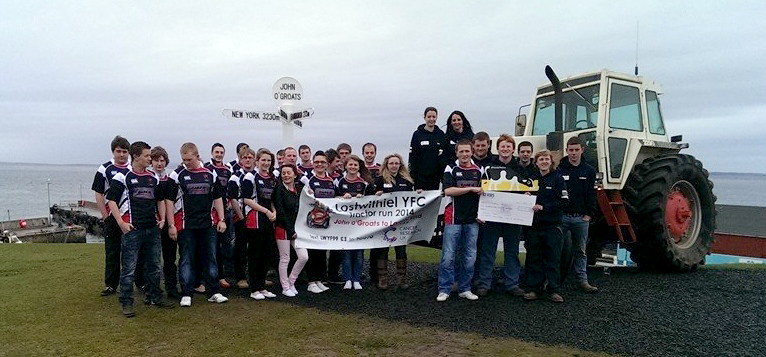 Fleur Worden, event organiser and outgoing chair of Lostwithiel Young Farmers Club said "It was a great experience for all those members who took part and such a great opportunity to raise money for a cause that is close to a lot of people's hearts and people can relate to no matter where in the country they are.
"It also helps to promote awareness of the Young Farmers organisation and brings people together. We are thrilled with the response we've had from other clubs all across the country. We've also had tremendous support from Cancer Research for whom we have raised thousands of pounds so far. We'd like to extend a heartfelt thank you to everyone who has supported us along the way".
Donations continue to be received. To donate visit www.justgiving.com/Lostwithiel-YFC or text LWYF99 £3 to 70070