News
European Funding for Duchy Palace
Thursday 22nd March 2012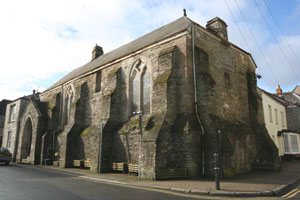 The Duchy Palace has received approval for more than £310,000 worth of European Regional Development Fund (ERDF) Convergence to invest in the restoration of the building which will create 1,400 sq ft (130 sq m) of office space. It is estimated that seven jobs will be created with the completion of the work.
The project is set to cost almost £600,000 and £275,000 will come from the Prince's Trust Regeneration Scheme.
Carleen Kelemen, director of the Convergence Partnership Office for Cornwall and the Isles of Scilly, said: "The overall aim of the project is to secure the long-term future of an important historic building in a way which will bring lasting economic and social benefits to the community."
Ros Kerslake, chief executive of The Prince's Regeneration Trust, added: "We are restoring the site and providing commercial space that will benefit the local economy by allowing access to the building, as well as preserving and celebrating the Palace's precious heritage."
The plans for the restoration are being managed by the Prince's Regeneration Trust and the United Kingdom Historic Building Preservation Trust. The project is being delivered in partnership with the Cornwall Buildings Preservation Trust.
(Source - insidermedia.com 22/3/12)