News
Duke and Duchess of Cornwall visit Lostwithiel
Saturday 4th July 2009
A royal visit to Lostwithiel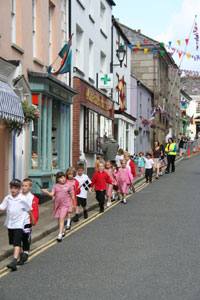 On 4th July 2009 the Duke and Duchess of Cornwall paid an official visit to Lostwithiel during a tour of Cornwall. There were two reasons for their visit: to visit the Duchy Palace and Restormel Manor.
The Duchy Palace had been recently purchased by the Prince's Regeneration Trust, in conjunction with the Cornwall Buildings Preservation Trust. The Duchy Palace is a Grade I listed building and is perhaps the oldest and most important secular building in Cornwall, dating from the 13th century. From 1875 to 2008 the building functioned as a Masonic Lodge. You can read more about the CBPT Duchy Palace project and the history of the Duchy Palace in Lostwithiel's places to see.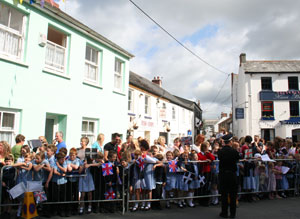 There has been another Duchy of Cornwall development in Lostwithiel, at Restormel Manor. A major renovation project has been recently completed which saw the refurbishment of the Manor House, conversion of farm buildings into holiday cottages and construction of new facilities such as a heated indoor swimming pool, outdoor tennis court and wood chip boiler. Find out more details about Restormel Manor and Cottages.

Children from Lostwithiel and St Winnow primary schools made Kernow and Union flags to wave as they welcomed the Duke and Duchess. The sun was shining and the streets were lined with well-wishers who had taken time out of their day to see the royal couple. Carnival flags were hung at the front of each shop and there was bunting across the streets.
The Duke and Duchess alighted at the south end of Fore Street and were greeted by local dignatories including Mayor Vic May, to the accompaniement of the Town Band. The Duke and Duchess also spoke to several members of the public, including school children.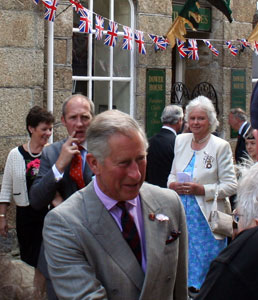 The first stop was the Duchy Palace to inspect the building and to hear plans for its conservation, restoration and future use. The Duke and Duchess then walked up the street, visiting a number of shops; the Duchess accepted several of bouquets. The next stop was St Bartholomew's church. Last year the tower and spire were restored and the bells are soon to be renovated. The Royal couple inspected the bells which had been lowered a couple of days earlier and were told about the planned refurbishment. Finally they visited the Lostwithiel Museum.


To round off their trip to Lostwithiel the royal party inspected the conversion and refurbishment at Restormel Manor before moving on to their next engagement.
Images by Mat Connolley