News
Food Festival 2010 round-up
Thursday 11th November 2010
Lostwithiel's 2nd Food Festival, a week-long food and drink extravaganza held between 25th and 30th October 2010, was even bigger and better than last year with several major new events. Half-term holiday-makers made a detour to the town to try out the tasty treats on offer, including many returning visitors who enjoyed last year's festival.
The week started with a Cornish Pasty Challenge, judged by a panel including Lostwithiel Mayor Vic May, Lostwithiel Bakery and special guest Radio Cornwall's James Churchfield. The winning pasty in the adult category was a Christmas Dinner pasty complete with all the trimmings. Notable mention was also given to a blackberry, apple and custard pasty and a chocolate and banana pasty.
The King's Arms held a fully-booked beer and food matching event, led by St Austell Brewery's award winning executive chef Paul Drye, while the Globe matched food and wine over five-courses to a packed restaurant, with the wines supplied and explained by Nigel Logan from Wine In Cornwall.
More exotic tastings were on offer at a Spanish fiesta held by Bellamama Deli, where over 70 portions of paella were dished up to a backdrop of Spanish music and dancing, and a Mexican evening at Terra Nova.
The climax of the week was the Asian Food Day organised by Natty Weston, which drew people from across Cornwall to watch cooking demonstrations, taste the diverse range of dishes and enjoy Thai dancing, Japanese drumming and Thai kick-boxing. Foodies were able to sample Japanese sushi, Thai spring rolls and noodle dishes, Indian and Nepalese curries - the Korean beef, rice and pickled cabbage was a popular favourite.
Businesses all over Lostwithiel took part with special promotions. The Earl of Chatham held a curry night and the Country Fryer held a special offer catch of the day. A variety concert with Cornish wines, beers, ciders and cheeses went down a storm at the Community Centre. The Royal Talbot held a 3 course cooking demonstration and a Great British Banger Bonanza to promote National Banger Week.
Throughout the week special menus were available, with a Cornish menu at Trewithen Restaurant, Cornish fayre and cream teas at the Community Centre, souper soups at Muffins Tearooms, game recipes at Liddicoats and tastings at Bellamama Deli, Watts Trading and Londis.
Transition Lostwithiel held Second Helpings, a day of food activities aimed at kids with apple-juice pressing, bread making, no-cook chutney and fridge biscuit making. Teas, coffees and homemade cakes were on offer, raising money for charity, and Love Food Hate Waste were on hand to help people learn how to reduce food waste by buying smart, perfecting portion sizes and using up leftovers.
Asian Food Day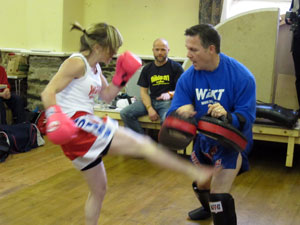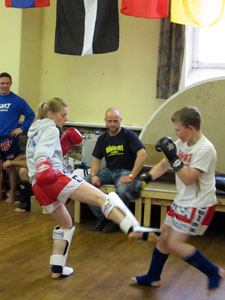 Muy Thai boxing demonstrations by West Area Kick Thai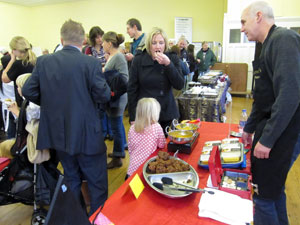 India bhajis and curries from Ruby June Indian Kitchen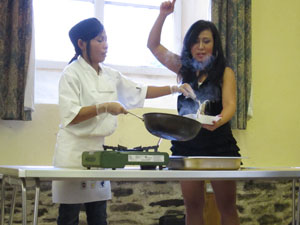 Pad Thai cooking demonstration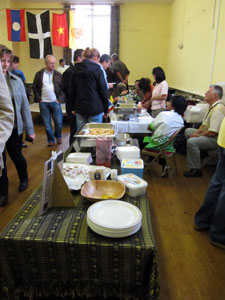 Thai spring rolls and stir fries from Bangkok Banquet and Rai Thai of Plymouth
Sushi and Korean food from Sushi Ichiban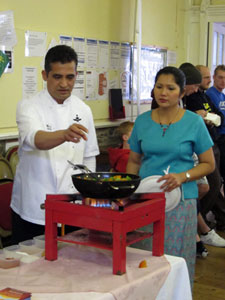 Nepalese cooking demonstration from Gurkha restaurant
Second Helpings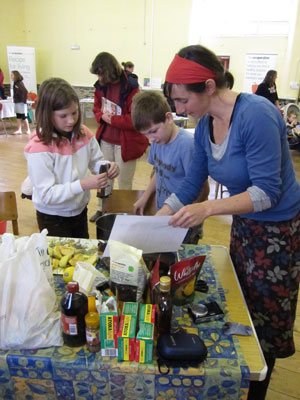 No cook chutney making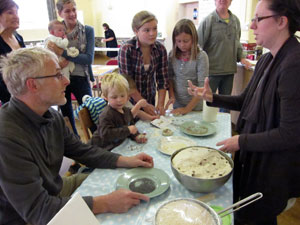 Bread making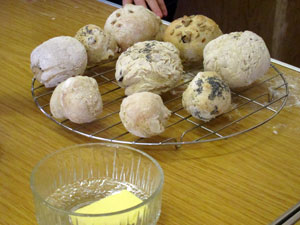 One of the many trays of bread rolls made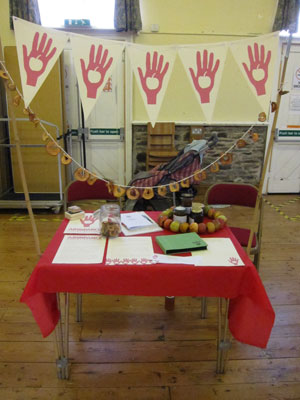 Abundance, making use local fruit that otherwise going to waste