News
Duchy Nursery wins 'best cafe'
Tuesday 10th January 2012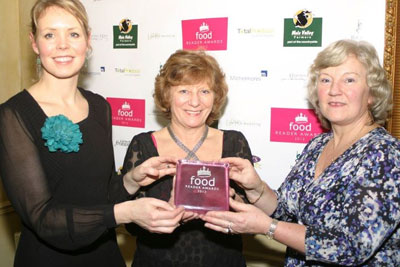 Duchy of Cornwall Nursery Café has won an award after opening only six months ago.
The Nursery's new building, shop, café and gardens were opened by the Prince of Wales in June 2011. The showpiece eco-friendly building for the Duchy Estate was rebuilt after a fire destroyed the previous cafe in 2005.
Duchy of Cornwall Nursery won the 'Best Café' award in the 2012 Food Magazine Readers Awards.
The Award was received by head chef Richard Du Pille and general manager Angie Coombs. The café uses local suppliers such as Trewithen Dairy and boasts a cosy log burner and views across the valley to Restormel Castle. Visit the Duchy of Cornwall Nursery's website to read more about the cafe.
Picture of Angie Coombs receiving the Food Magazine award courtesy of Brian Wogan Coffee