News
Cornish Cider Festival 2011 launches
Tuesday 27th September 2011
Following its success over the last two years the Cornish Cider Festival 2011 will be held on Saturday 22nd October with continued support from Sharp's Brewery and Cornish Orchards.
The Cornish Cider Festival celebrates grass roots cider making, craft and provenance but also embraces larger producers whose cider making is traditional with a sense of identity and place.
Festival organisers Lee Cornish and Rupert Warwick are hoping the relationship with its supporters can build the Festival over the next few years
Rupert Warwick said: "We've been careful to keep the festival focused and manageable to prove the format can work but there maybe an opportunity for a larger event in 2012 with more music, stands and cider of course.
"We are grateful to Sharp's Brewery and Cornish Orchards for their support again this year in supplying the special festival glasses and promotional 'cider mats' which will be distributed to pubs, bars and restaurants across the Southwest."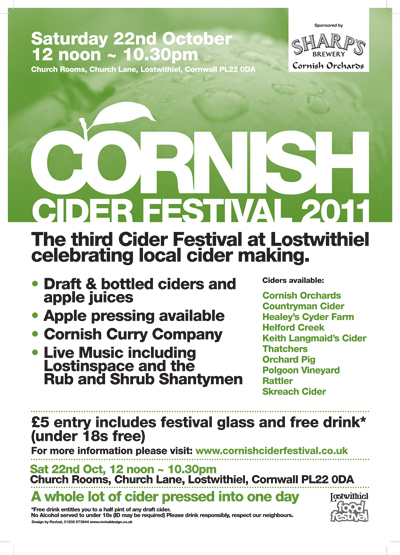 As well as cider there will be cider-making experts present to answer questions and an apple press available in the afternoon (until 4.30pm) for people to make their own juice. The Cornish Cider Festival will also host live music throughout the day including the Rum and Shrub Shantymen and Lostinspace.
Lee Cornish said: "Above all the Cornish Cider Festival is about having fun and aims to give people the opportunity to enjoy this wonderful regional product in all its variations, varieties, strengths, colours and smells – we have a different cider for every mood."
The Cornish Cider Festival would also like to thank Dr Andrew Omerod from the Eden Project who has supplied valuable advice and support.
The Cornish Cider Festival is part of the LostFeast 2011. For more information visit the Cornish Cider Festival website.