What's on
LostFeast - Cider Festival
Saturday 22nd October 2011, 12:00pm to 10:30pm
Location: St Barts Church Hall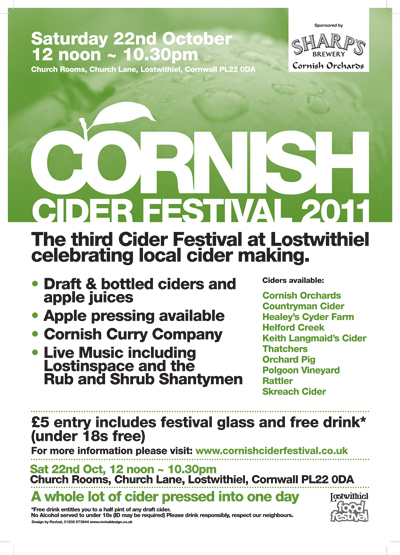 The Third Cider Festival at Lostwithiel celebrating local cider making.
Welcome to the Cornish Cider Festival 2011 - now in its third year the festival attracts more people than ever and is now an established fixture in Cornwall and the Southwest's food & drink calendar.
The Cornish Cider Festival celebrates grass roots cider making, craft and provenance but also embraces larger producers whose cider making is traditional and has a sense of identity and place.
Above all the Cornish Cider Festival aims to give people the opportunity to enjoy and get excited about this wonderful regional product in all its variations, varieties, strengths, colours and smells.
The price is £5.00 on the door, which includes a festival glass and FREE half pint of draft cider (under 18s free).
There will be a range of draft and bottled ciders and juices available on the day including:
Cornish Orchards
Countryman Cider
Healey's Cyder Farm
Helford Creek
Keith Langmaid's Cider
Thatchers
Orchard Pig
Polgoon Vineyard
Rattler
Skreach Cider
Also available on the day:
For more information visit the Cornish Cider Festival website