News
Young Farmers Bare All For Charity
Friday 11th November 2011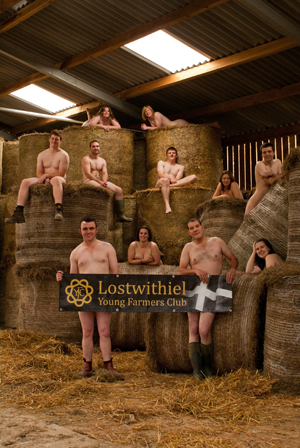 Members of Lostwithiel Young Farmers Club have seen rather more of each other than usual recently. The club's latest fundraising scheme has seen members stripping down for the cameras to produce an extremely tasteful nude calendar.
The idea came about back in June when vice chairman Sam Stephens was trying to think of new ways to raise money for charity. Sam now club chairman said "It was just a throwaway idea, I can hardly believe that we have actually produced the calendar, particularly in such a short time. Full credit must go to Fleur Worden who has worked very hard on this project and of course to all the members who have taken part" He also added his thanks to the outgoing committee particularly Secretary Lauren Prentice, who put a lot of time to the calendar.
The club would also like to thank our photographer Steve "Butts" Butter and "Artistic Director" Martin "Mouse" Smale, both of Launceston YFC who stepped in to help at the last minute when the original photographer had to pull out of the project. Over two weekends hundreds of pictures were taken on various members' farms and in The Globe Inn and King's Arms in Lostwithiel to produce twenty four suitable shots for the reversible calendar, boys on one side girls on the other. Fleur said "I was amazed at how well the shoots went. Once members got over their initial nerves it was great fun, I feel we all know each other a little better now!"
The whole project would not have been possible with out the generous support of sponsors and thanks must go to The Globe Inn, Lostwithiel, Fred Champion Groundworks, Doublebois and Roger Young Landrover, Saltash.
All profits from the sale of the calendar, which is on sale now for just £5.00, will go to the club's nominated charity for this year Cornwall Search and Rescue. To order your copy please contact club secretary Alex Hutchings on 07920 132201, alternatively it will be on sale at The Globe Inn and King's Arms in Lostwithiel, Ship Out, Lerryn and a number of other local outlets.
You can also contact Alex for more information about Lostwithiel Young Farmers Club.