News
Work on St Barts Church Spire
Saturday 5th June 2021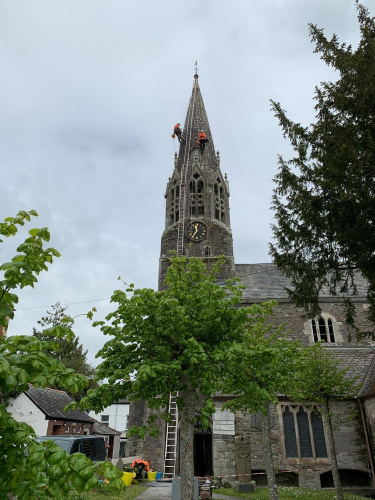 Locals and visitors to Lostwithiel will have noticed work taking place on the Church Spire. Here is a report from St Bartholomew's Church as published in the June 2021 edition of Lostwithiel Newsletter.
" ST BARTS – UPDATE ON PROPOSED WORKS TO REPAIR THE TOWER
As most of you will be aware, our beautiful tower and spire needs urgent attention to prevent rainwater ingress that has affected the town clock, the flooring in the bell tower and the bells.
We applied for a grant from Historic Churches Trust, but were unsuccessful; we can apply again in July. We have also applied to Garfield Weston Fund and are still waiting to hear.
With the help of the Friends of St Bart's we have sufficient funds to start the work on the spire at a cost of £21,000. This will leave £100,000 still to be raised to complete the work and leave the tower in good order for future generations.
Now that things are opening up and we are able to get together, we are planning to begin serious fundraising, with a Barbecue, Band and Bar in the Church grounds on July 3rd , followed by a garden party at Stannary House on July 17th.
We hope you will all be able to support these events but if you would like to help us to achieve this important work, we do have a Just Giving page.
If anyone has further ideas to help us to raise the necessary funds, please contact one of the church wardens. Our church was built around the same time as Restormel Castle, and we would not like to see it deteriorate to the same degree!! "
Donations to the Church Tower fund may be made via Just Giving.

Image Credit: Rebecca Molyneux