News
Why 'Johnny Cowling Sings Gospel' in Lostwithiel
Monday 4th February 2019
Rotary's advert in the February edition of Lostwithiel Newsletter for the 'Johnny Cowling Sings Gospel' concert carry the words "Come and hear the inspirational story of how Sabre Education started when a young man's Landrover broke down in remote Ghana".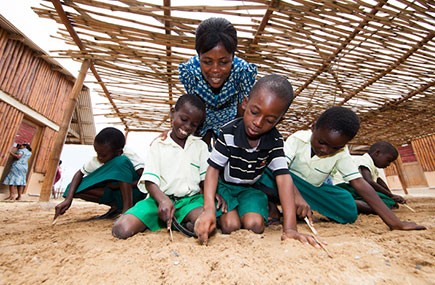 Sabre Education is a Lostwithiel based charity whose Chief Executive Officer is local resident Dominic Bond. The thrust of Sabre's work is providing award winning kindergarten teacher training and schools in Ghana. Lostwithiel Rotary hopes to help Sabre build another school in Ghana.
Recently Sabre was one of three of 150 worldwide nominations to win the prestigious 2017-2018 UNESCO-Hamdan bin Rashid Al-Maktoum Prize for Outstanding Practice and Performance in Enhancing the Effectiveness of Teachers.
Come along and enjoy 'Johnny Cowling Sings Gospel' and hear a little about Sabre. St Bartholomew's Church at 7:30 on Wednesday 20th February. Tickets are available from Ann's Gallery, Rotarian David Dunkley 01208 872905 or on the door. More information about the concert on this page.
Lostwithiel Rotary will be donating all profits to Sabre Education. We hope to help Sabre build another school in Ghana. Over the last 5 years Lostwithiel Rotary has raised almost £100,000 with every penny being donated to good causes: approximately 30% in Lostwithiel, 30% rest of Cornwall, 10% rest of UK, 30% abroad including Rotary's End Polio Now campaign.