News
Tulkinghorn Gallery opening night
Friday 18th June 2010
Bob Ringwood, a film set and costume designer who moved to the area a year ago, has opened a new gallery on Fore Street in Lostwithiel.
The opening night of the first exhibition at the Tulkinghorn Gallery, Sophisticated Ladies , was held on Friday 18th June. Around 70 people came to the launch night and £12,000 worth of pictures was sold, making it a great success.
The exhibition was made up of Bob Ringwood's private collection of paintings by William Barribal (1873 - 1956), and was attended by the artist's grandson, Bill Barribal.
Planning for future exhibitions is already underway and won't be limited to paintings, ranging from ceramics to furniture and curiosities. Bob has already had discussions with local artists.
After attending art school in Ealing, Bob trained in theatre design and worked as a theatre set designer for fourteen years before embarking on a very sucessful career in film costume design. He was nominated for numerous awards, including 2 Oscars for Steven Spielberg's Empire of the Sun and Troy, starring Brad Pitt.
The exhibition Sophisticated Ladies runs from 18th June to mid-July.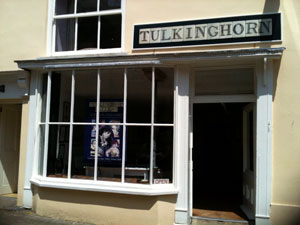 The Tulkinghorn Gallery on Fore Street in Lostwithiel.