News
Spring Clean Week success
Monday 26th March 2012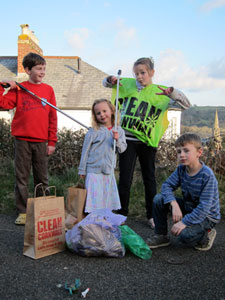 Lostwithiel's first Spring Clean Week has been a huge success and is hoped to become an annual event. The week long initiative was organised by Lostwithiel Forum as part of Clean Cornwall Week.
Several groups, organisations, businesses and town residents got involved, from Cubs and Brownies to shop keepers and Young Farmers. Activities ranged from litter-picking to weeding and clearing shrubbery.
Lindsay Southgate, Caroline Bland and Helen Taylor from Lostwithiel Forum were inspired to organise the spring clean. Treasurer Lindsay Southgate said it was a real team effort and a huge success. The group now plans to hold future events and take comments and ideas raised during the spring clean to the town council and Cornwall Council.
Youth Group co-ordinator Helen Taylor described how different groups in town worked hard and got involved:
Cubs did a clear up in Coulson Park
Brownies tidied the main car park and King George V playing field
Young Farmers cleared the island by the old bridge
Guides tidied up the Parade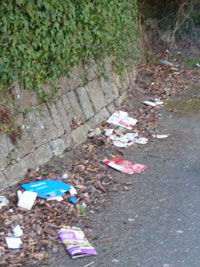 Read more and view pictures on the Cornish Guardian website or visit the Lostwithiel Spring Clean website.
Pictured above: residents of Clifden Terrace who did a spring clean around their homes.
Pictured left: litter before the spring clean and bags of rubbish afterwards.