News
Sabre Education collect prize from UNESCO in Paris
Tuesday 9th October 2018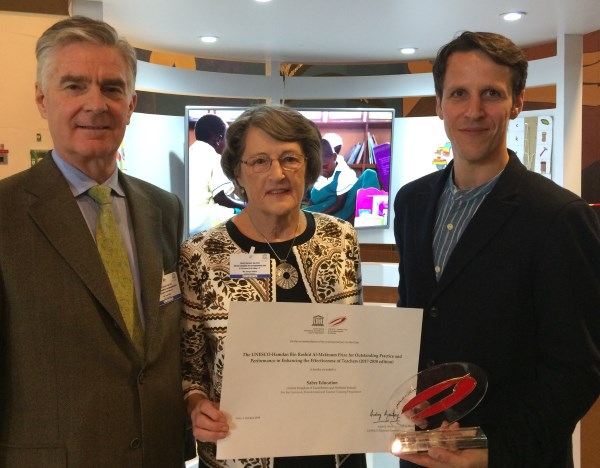 Earlier this year we reported how Lostwithiel Business Group member Sabre Education was one of three winners awarded a $100,000.UNESCO prize for Outstanding Practice and Performance in Enhancing the Effectiveness of Teachers.
Sabre Education was selected for its Fast-track Transformational Teacher Training Programme: a teacher training approach, which is drawn directly from Ghana's government strategy and is a critical part of the country's aim to provide quality early childhood education.
The winners were honoured at an award presentation ceremony at the UNESCO headquarters in Paris on World Teachers' Day (5 October 2018).
Our photograph shows David Main Chair of Trustees, Sabre Education, Sonya Hinton, Education Advisor, Sabre Education, Dominic Bond, CEO, Sabre Education with the UNESCO –Hamdan bin Rashid Al-Maktoum Prize for Outstanding Practice and Performance in Enhancing the Effectiveness of Teachers 2017-2018. Credit: Sabre Education