News
Restormel Woodland Walk opens for Easter
Wednesday 23rd March 2016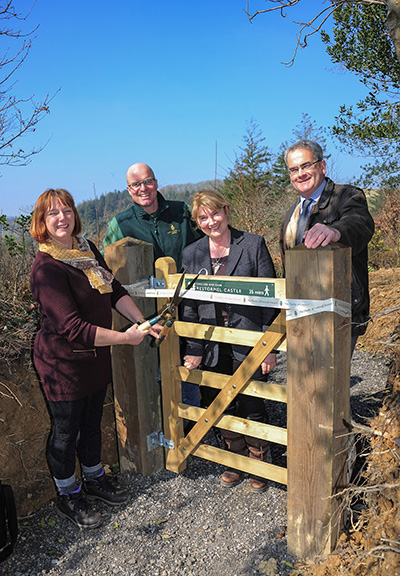 In the heart of the Duchy of Cornwall's historic estate, near Lostwithiel, a new walk has been created, linking two of mid-Cornwall's most popular attractions – historic Restormel Castle with the Duchy of Cornwall Nursery.
From Easter Friday, thanks to the instillation of a new gate, it will now be possible for visitors to enjoy both attractions whilst taking a beautiful 25 minute valley walk through unspoilt countryside.
Beginning at Restormel Castle, the route invites guests to explore the Norman Fort - once owned by the Black Prince and home to the first Duke of Cornwall - before it delves deep into the 350 acres of Duchy farmland, passing the Duke of Cornwall's cherished Restormel Manor at the head of the beautiful Fowey valley.
Nestled close to the banks of the River Fowey surrounded by Beech, Sycamore and Lime parkland trees this area is a haven for birds and wildlife. It is also Cornwall's largest and oldest deer park dating back to the 12th century and a breeding site for very rare native Cornish Black Bees – encouraging conservation, biodiversity and research.
Cornwall's rich plant hunting heritage can also be seen in abundance throughout the walk, affording visitors the chance to admire Canadian Western Red Cedars, Douglas Fir's, Oak, Ash, Conifer and veteran trees.
The route concludes at the Duchy of Cornwall Nursery, which has been a sanctuary for gardening enthusiasts for forty years; offering visitors exceptional quality, tempting plant ranges and expert advice. Visitors can also enjoy the award-winning Café, led by Chef Richard Du Pille and using only the finest local produce.
Duchy of Cornwall Nursery Horticultural Manager, Alasdair Moore, said: "We're excited to share the new Restormel Woodland Walk with our visitors. The walk marries the best of the Cornish landscape with history, magnificent trees and horticulture. The woodland paths trace a link to understanding the landscape in the modern day. It also links an ancient site rich in heritage with a fantastic nursery and café: an important source of refreshment for walkers!"
Mayor of Lostwithiel Pam Jarrett joined Horticultural Manager Alasdair Moore, Duchy of Cornwall's Head Forester, Geraint Richard and English Heritage's Property Curator for the west Heather Sebire, at the Duchy of Cornwall Nursery to cut the ribbon in celebration of the Restormel Woodland Walk.
For more information on Duchy of Cornwall Nursery please visit www.duchyofcornwallnursery.co.uk or call 01872 872 668.