News
Prince Charles and the Duchess of Cornwall to visit Lostwithiel
Friday 5th July 2013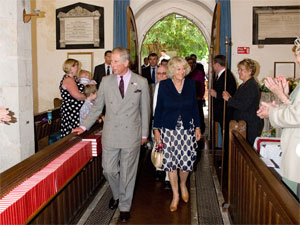 On Wednesday 17th July the Duchess of Cornwall's birthday, the Duke of Cornwall, president of the Prince's Regeneration Trust, accompanied by his wife, will visit the restored Duchy Palace in Lostwithiel.
The couple will also visit Parade Square to meet schoolchildren, members of the local community and the Lostwithiel Town Band.
To mark The Duchess of Cornwall's birthday, Her Royal Highness will be presented with a cake and the band will also play Happy Birthday. The Royal Couple will be in Lostwithiel between approximately 9:30 am and 11:30 am.
(Source: The Mayor of Lostwithiel and Western Morning News)
Photo shows Duke and Duchess of Cornwall inside St Bartholomew's Church during an earlier visit in November 2009. Photo © Pure Picture Company.
Where to stay

You're never short of somewhere to stay in Lostwithiel, with a great choice of hotel and pub accommodation, plus lovely b&bs.

For the more independent minded there is a great selection of self catering character cottages and apartments.

If you want to be closer to the glorious Cornish countryside there's camping, lodges and yurts nearby.

Eat and drink

Lostwithiel is great for food lovers - there's somewhere different to eat every night of the week - with a choice to suit every taste and every budget, from award-winning restaurants to pub grub.

And if you don't fancy a sit-down meal, why not opt for a takeaway by the river?

Shopping

See and do

Businesses

Lostwithiel is full of indepdent businesses and organisations offering a wide range of services.

About the town

Lostwithiel is a historic town with a thriving community of independent shops and business, local groups and regular activities.