News
Prince Charles and the Duchess of Cornwall to visit Lostwithiel
Friday 5th July 2013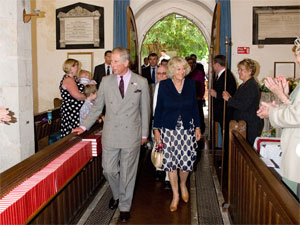 On Wednesday 17th July the Duchess of Cornwall's birthday, the Duke of Cornwall, president of the Prince's Regeneration Trust, accompanied by his wife, will visit the restored Duchy Palace in Lostwithiel.
The couple will also visit Parade Square to meet schoolchildren, members of the local community and the Lostwithiel Town Band.
To mark The Duchess of Cornwall's birthday, Her Royal Highness will be presented with a cake and the band will also play Happy Birthday. The Royal Couple will be in Lostwithiel between approximately 9:30 am and 11:30 am.
(Source: The Mayor of Lostwithiel and Western Morning News)
Photo shows Duke and Duchess of Cornwall inside St Bartholomew's Church during an earlier visit in November 2009. Photo © Pure Picture Company.