News
Party on the Parade - get involved!
Tuesday 5th April 2011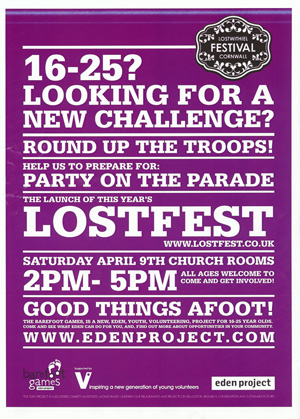 This year's LostFest will be launched with a street party style event on Saturday 14th May from 6pm - 10pm.
Following the huge success of last year's Party in the Park, LostFest is now being held across two days for the first time. Party on the Parade will be a celebration of up-coming talent, involving local young people to plan the event and as performers. Skinners beer tent and hot food stalls will provide refreshments and an exciting line-up of bands provide entertainment on the main stage.
The event is supported by Eden Project's Barefoot Games, a youth volunteering programme to get local young people involved in jazzing up their communities and learning or sharing new skills, through events and activities.
LostFest is looking for people - particularly aged 16 to 25 - to get involved in helping to plan the event.
If you'd like to get involved, come along to the Church Rooms on Saturday 9th April between 2pm and 5pm to see what the Party on the Parade will be all about and how you can take part.