News
Outdoor Concerts return to Lostwithiel for August 2019
Saturday 13th July 2019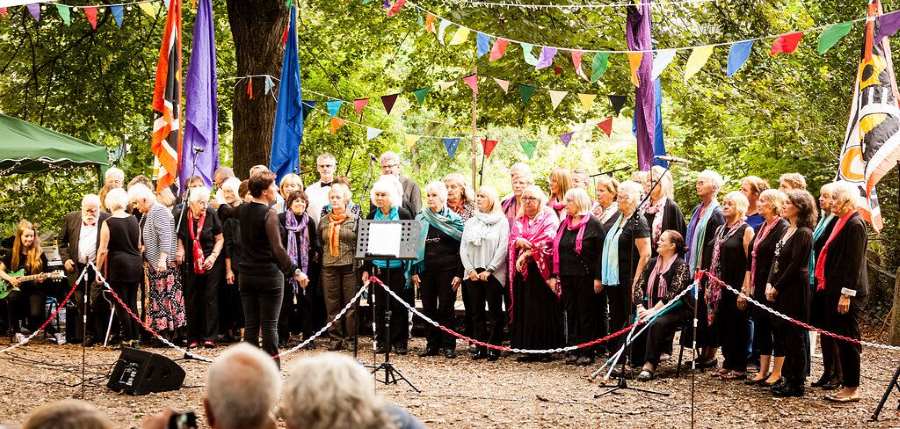 .
Every Thursday evening in August Lostwithiel's Parade Gardens come alive with a free evening of music and song.
Alongside the river Fowey and under a canopy of beech trees, fairy lights and bunting, Sing Along the River showcases the best of Cornwall's community and male voice choirs and Lostwithiel Town Band.
The programme begins at 5.30pm and closes at 10.45pm. On top of a choice programme of music, local food producers offer up a stellar menu of grab and go food, which includes Thai cuisine and paella, bangers and burgers. Also, there is a licensed bar and hot and cold refreshments.
This year choirs will be performing on a brand new stage under a stretch tent canopy that has been funded the European Agricultural Fund for Rural Development. (EAFDA). With EAFDA support Sing Along the River has been able to procure an outstanding new events infrastructure that will support and develop the many cultural events that Lostwithiel Town continues to programme and host.
In 2019, the line-up is better than ever with singers coming from all over Cornwall. The choirs include Lovenny Male Voice Choir, Celtic Voices, The Polperro Fishermen's choir, Notability, Canoryon Lowen, Champagne Chorus, Sing Truro and Falmouth, Barbed Choir, The Riverside Singers, The Songbirds and Lost in Song. Headline acts include The Ricketty Bones, The Tamborine Men, Rum and Shrub, The Woodcarts and The Gumbo Flyers.
This summer the programme starts a little earlier with a special sing along music session for families with young children. Supported by FEAST, local musicians including Jamie Crowe, Emma Mansfield, Roger Luxton and Zena Walker, have devised a not to be missed early years set to get tots rocking, siblings singing and everyone gets to be part of this spontaneous chorus of chaos.
Bring blankets and chairs, parking is free in Lostwithiel but come early to find a space. You can also travel by train.

Sing Along the River is supported by European Agricultural Fund for Rural Development FEAST, Arts Council England and Lostwithiel Business Group, and all the proceeds from the bar and caterers help to keep this event free. For more information visit www.reallylovelyprojects.org.uk and www.lostinsong.org