News
New benches unveiled at Lostwithiel Station
Thursday 1st March 2012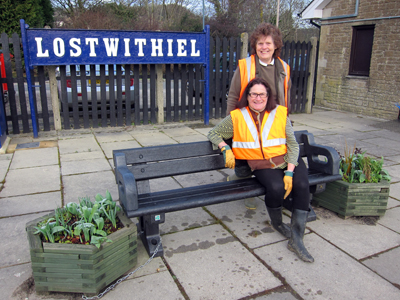 New benches have been unveiled at Lostwithiel Station, after a hugely successful Grand Draw was held in May 2011 to raise the funds.
The appeal and Draw was organised by Maggie Robshaw and Maggie Morley who are part of a group of Rural Stations Project volunteers who tend the planters on the platforms and the garden at the front of the station. The Draw attracted extremely generous donations, resulting in a stunning selection of prizes which included tours of Lord's Cricket Ground, Twickenham, a family ticket to The Eden Project, National Trust membership, a spa at Fowey Hall, golf at Lostwithiel Golf Club and many, many more. It was such a success that in total £1100 was raised to purchase and install the new benches.
The new benches are made from 100% recycled plastic bags and bottles are extremely sturdy. They replace the old benches which were vandalised repeatedly until finally the benches on both the DOWN and UP platforms were removed entirely by First Great Western.
Organisers of the Draw wish to thank all who donated prizes and all those who bought tickets to support the appeal. Rural Stations Project are always keen to meet other enthusiastic gardeners to join their team of volunteers who maintain the station gardens. If you would like to know more about the project or get involved, please send a message.
Pictured: Maggie Robshaw (seated) and Maggie Morley with one of the new benches.