News
Tulkinghorn Gallery's Mid-Summer Miscellany
Tuesday 10th August 2010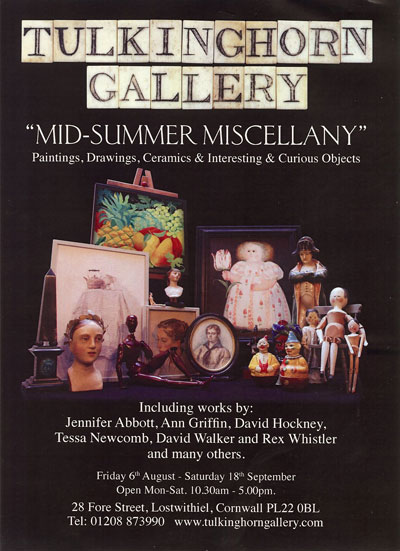 The Tulkinghorn Gallery held the opening night of its second exhibition on Friday 6th August.
The exhibition is entitled "Mid-Summer Miscellany" and includes a mixture of paintings, drawings, ceramics and interesting and curious objects. Artists include Jennifer Abbott, Ann Griffin, David Hockney, Tessa Newcomb, David Walker, Rex Whistler and many others.
The exhibition will run until Saturday 18th September. Opening hours are 10.30am - 5.00pm.
Tulkinghorn Gallery is at 28 Fore Street, Lostwithiel, PL22 0BL. Tel: 01208 873990 for more details.