News
Tulkinghorn Gallery's Mid-Summer Miscellany
Tuesday 10th August 2010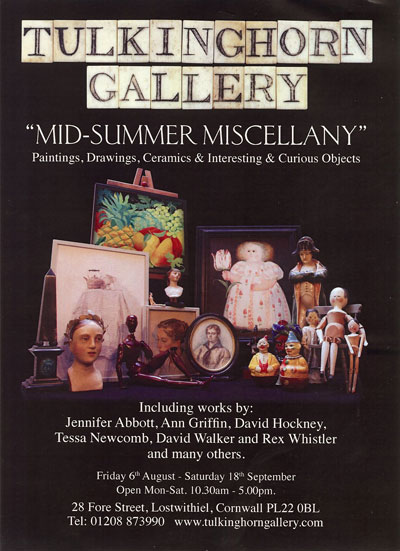 The Tulkinghorn Gallery held the opening night of its second exhibition on Friday 6th August.
The exhibition is entitled "Mid-Summer Miscellany" and includes a mixture of paintings, drawings, ceramics and interesting and curious objects. Artists include Jennifer Abbott, Ann Griffin, David Hockney, Tessa Newcomb, David Walker, Rex Whistler and many others.
The exhibition will run until Saturday 18th September. Opening hours are 10.30am - 5.00pm.
Tulkinghorn Gallery is at 28 Fore Street, Lostwithiel, PL22 0BL. Tel: 01208 873990 for more details.
Where to stay

You're never short of somewhere to stay in Lostwithiel, with a great choice of hotel and pub accommodation, plus lovely b&bs.

For the more independent minded there is a great selection of self catering character cottages and apartments.

If you want to be closer to the glorious Cornish countryside there's camping, lodges and yurts nearby.

Eat and drink

Lostwithiel is great for food lovers - there's somewhere different to eat every night of the week - with a choice to suit every taste and every budget, from award-winning restaurants to pub grub.

And if you don't fancy a sit-down meal, why not opt for a takeaway by the river?

Shopping

See and do

Businesses

Lostwithiel is full of indepdent businesses and organisations offering a wide range of services.

About the town

Lostwithiel is a historic town with a thriving community of independent shops and business, local groups and regular activities.