News
Lostwithiel YFC member to chair national organisation
Friday 15th November 2013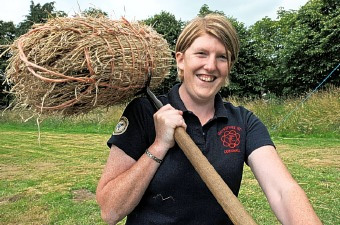 Claire Worden, a member of Lostwithiel Young Farmers' Club for the last 13 years, has been elected as the new chairman of the National Federation of Young Farmers' Clubs.
The elections were held recently in Coventry. The national council is made up of 63 people from across England and Wales, and is elected by YFC members to represent their views.
Claire has represented Cornwall YFC and the South West for the past five years. She also plays and coaches hockey at both club and county level.
In her new role she will lead policy for the federation and be a spokesperson for its 25,000 members in clubs across England and Wales. The organisation is currently developing a new strategy to reach out to more young people in rural areas. During her year as chairman Claire says she's planning to raise awareness about rural isolation, particularly the unique challenges that young people face, and demonstrate how Young Farmers' Clubs can support them.
She said "YFC has given me skills, confidence and friends for life. We're not just an organisation for young people involved in farming; we offer support and a social life to all young people in the countryside.
"I love living in a very rural area of Cornwall, but it comes with its challenges. YFC has helped me to stay connected and feel part of a much bigger community, and I want to use my year as chairman to make more rural young people aware of our clubs, so they can enjoy the same opportunities I did."