News
Lostwithiel Town Forum celebrates £8800 Heritage grant
Thursday 29th May 2014
Lostwithiel Town Forum has received a Heritage Lottery Fund (HLF) Sharing Heritage grant for £8800 to celebrate Lostwithiel's medieval bridge. The grant has been awarded to renovate street furniture on the Grade I listed bridge, to install interpretation signs, and to run a number of events to share the history of this unique structure.
Pictured from left: Helen Taylor of Lostwithiel Forum with dog Tilly, Town Councillor Tim Hughes, Lostwithiel School Chair of Governors Kat Smith with dog Stanley, John Pegg from Lostwithiel Garden Society, Lindsay and Keith Southgate from Lostwithiel Forum, Cornwall Councillor Benedicte Bay and Gill Scott from Lostwithiel Forum.
Sharing Heritage is a recent funding programme to help people across the UK explore, conserve and share all aspects of the history and character of their local area.
Lostwithiel Town Forum, whose mission is to promote the social, economic and environmental enhancement of Lostwithiel and the surrounding area, will co-ordinate the restoration work with Cornwall Council's Conservation Officer.
Afterwards they will work with organisations in the town, including Lostwithiel Museum and Lostwithiel School as part of the Derek Taylor Award, to celebrate this very special structure which is central to so many community activities.
There are plans to offer all young people in the town the chance to write a short story which will be a special Class at the Lostwithiel Garden Society's annual Produce Show. At the other end of the age spectrum, members of the U3A Photography Group will be recreating old photos of the bridge and including these in their annual exhibition at the end of the year.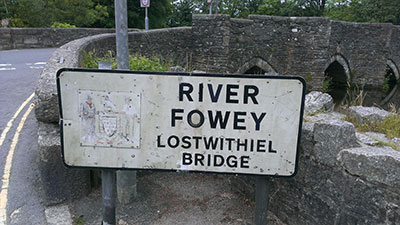 Commenting on the award, Keith Southgate, Secretary of Lostwithiel Town Forum said "We are delighted that our application has been successful. The bridge and surrounding area are central to many events in Lostwithiel and we are really looking forward to sharing its history with residents and visitors alike. This is a fantastic opportunity to involve so many local organisations in a real celebration of our wonderful town."
Nerys Watts, Head of the Heritage Lottery Fund South West, said: "Sharing Heritage is a wonderful opportunity for communities to delve into their local heritage and we are delighted to be able to offer this grant so that Lostwithiel can embark on a real journey of discovery. Heritage means such different things to different people, and HLF's funding offers a wealth of opportunities for groups to explore and celebrate what's important to them in their area."
Pictured left: one of the old bridge signs which will be replaced.