News
Lostwithiel Produce Show 2014
Thursday 24th July 2014
GET YOUR ENTRIES READY FOR LOSTWITHIEL PRODUCE SHOW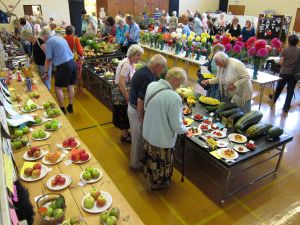 It's time to get your entries ready for the 72nd Annual Produce Show which will be held on Saturday 6th September 2014 in the Community Centre. The Show, which is run by the Lostwithiel Garden Society in conjunction with the Lostwithiel Women's Institute and the Lostwithiel & District Floral Art Group, will be opened by Mr Andrew Leslie, Chairman of the Cornwall Garden Society, at 2.30pm.
In addition to the usual fruit, flower and vegetable classes there are classes for compost, cookery, preserves, wine and beer, handicraft, photography, pets and school's classes. There is also a Scarecrow class, where exhibits can be up to life size. This class is open to all ages including adults.
Thanks to support from the Heritage Lottery Fund, there will be a special class this year for young people to win a prize by submitting a short story about Lostwithiel Bridge. The Heritage Lottery Fund has also contributed towards the cost of producing printed copies of the schedule for the show.
For more information contact John Pegg on 01208 872676
View and download the show schedule via this link