News
Lostwithiel Plant Swap's 12th year
Friday 1st April 2022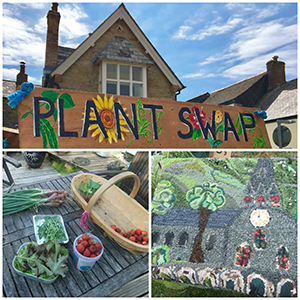 This will be Lostwithiel Plant Swap's 12th year!
Following the success of last year's changed format, the organisers aim to continue running the Plant Swap table in St Bart's Churchyard through Spring and Summer weekends this season, from Friday at 11am to Saturday afternoons at 3pm starting Friday April 8th.
Look out for the Plant Swap sign by the Churchyard gate. Like last year, you will be able to swap and donate your surplus seeds, plants, seedlings or garden sundries even when nobody is in attendance – the organisers be popping back every so often through the day and are always happy to stop and chat or advise about plants!
If you see something you'd like, but don't have anything to swap, no problem, leave a donation instead – all funds raised go to local charities at the end of the season.
Last year there was a fantastic turnover of swapped and donated plants , from surplus bedding plants and veg seedlings to houseplants, shrubs, fruit bushes, herbs, native wild flowers, ferns, and both common and unusual perennials. Later in the season there's sometimes garden produce too.
Lostwithiel has a wonderful community of gardeners who like to share! Whether you're a lifelong gardener or just starting out, Lostwithiel Plant Swap welcomes you. We regret we can't accept Plastic plant pots can't be accepted: best to reuse them as much as possible.
Lesley, Debenie, Tessa, Angela & Yvette