News
Lostwithiel celebrates 10 years of bear fairs
Friday 21st June 2013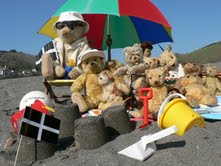 The 2013 Cornwall Summer Bear Fair is to be staged at Lostwithiel Community Centre on Sunday 23rd June from 10am - 4pm. This will be the 10th year and the 16th Bear Fair at the Centre. The 2013 Summer Fair promises to be even better than previous ones - definitely the "best in the west" !
Adult admission is £2.50 and accompanied children under 14 are free.
The Fair features some 45 stands with hundreds of teddy bears - old and antique, plus new artist and designer bears, handcrafted by national, international and top local artists - many from Cornwall and Devon. Urchin Bears, Kingswear Bears and Apple Pie House of Gloucester will show their well-known international trademark bears and friends. Andrea of Artimus Bears will be demonstrating face making.
Bear Basics (Wincaton), BSB Bear Supplies (Plymouth) and Mohair Bear Making Supplies wlil be provide extensive ranges of bear making kits, patterns, materials and accessories and will give practical advice to any budding bear artists.
Tricia (Teddies of Trenode) will have a great selection of "oldies" to choose from and will give free valuations for any "veterans" brought in. Cassy, from The Teddy Hospital in Cornwall, will give restoration advice, and if necessary, hospitalise any infirm or unwell teddies!
Two Charities will be present and endorsed - Cornwall Hospice Care and Animals Asia's campaign - rescuing bears from captivity and in distress.
There will be a real Champagne Competition with an Engraved Silver Cup for an "Own Bear Creation" of any size, dressed or undressed, with a 'Summer' theme. Competition is open to all attendees, visitors and stallholders - bring your teddy in! Voting will be by all attendees (one vote only!) There will also be a free prize draw for Special Teddies.