News
LostFest line up announced
Wednesday 4th April 2012
The list of arts & crafts stalls and performers at this year's LostFest, the annual festival of arts, crafts and music in Lostwithiel, has now been published.
The festival will be held on Sunday May 13th from 10am to 7.30pm. It's a free event with all money raised going to FLEET charity.
Arts, crafts and antiques can be found in the Church Rooms, Drill Hall, Parade Marquees and outside on the Parade. Several stalls will be holding demonstrations and workshops. In the dedicated food marquee on the Parade, visitors can enjoy delicious festival food from all corners of the world. See a list of stalls at this year's festival.
For kids it's all happening on the beach next to the old bridge with magic demonstrations, face painting, balloon sculptures and a kids craft tent where kids (and parents!) can take part in craft activities.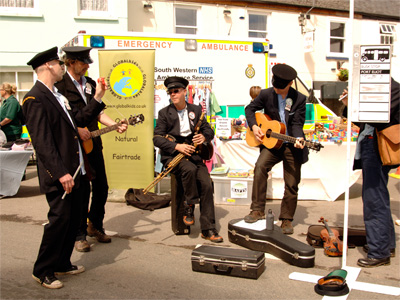 With over 150 musicians, dancers and performers from samba to morris dancing, barbershop quartets to pop, LostFest has something for everyone. Musicians and entertainers perform in all venues and on street corners - look out for blackboards on the day for a schedule of exactly who is on when and where. See details of the acts confirmed so far.
The evening's entertainment will be provided by the unbridled, festival sound of the Roving Crows who will be performing from 5 - 7.30pm on the Parade, close to the Skinners beer tent.
The party will then transfer to local pubs. The Kings Arms on Fore Street will have live music from the Pete Berryman Trio from 6-9pm and the Roving Crows from 9-11.30pm.
For more information visit the LostFest website or Facebook page.