News
Lostfest cheque for FLEET
Thursday 23rd February 2012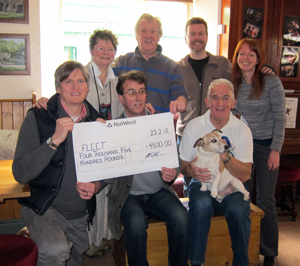 LostFest was proud to present the charity FLEET with a cheque for £4,500 - the profits from last year's annual festival of arts, crafts and music.
Over 5,000 visitors came to the event, which featured some 200+ stalls, musicians and performers in Lostwithiel's busiest day of the year,
LostFest 2012 takes place throughout the town on Sunday May 13th and is already fully booked with stalls for the event. A new park and ride scheme, together with direct trains to the event will provide a better, more efficient transport scheme for LostFest.
Full details of LostFest 2012 can be found on www.lostfest.co.uk