News
LostFest 2012 on Sunday 13th May
Tuesday 1st May 2012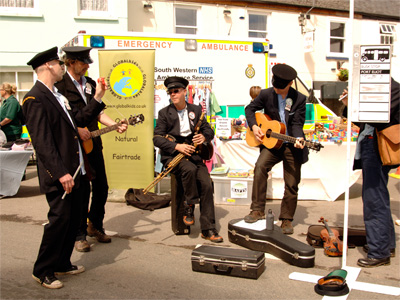 Music, dance, arts and crafts are set to take over Lostwithiel once more on Sunday May 13th from 10am to 7.30pm at LostFest, the one day free festival which is now in its 6th year.
Part of the Daphne Du Maurier Festival, LostFest has become a well established and much anticipated annual event, drawing thousands of visitors from across Cornwall and beyond. Entry to the festival is free with all donations going to FLEET charity.
Visitors are encouraged to leave their cars at home - Lostwithiel has a railway station right in the middle of town with services stopping regularly throughout the day. For those who do drive, there is a free Park & Ride scheme on the road to Lerryn, signposted from the A390.
Music & Dance
Everything from samba to morris dancing and barbershop quartets to pop can be found in venues across town and on every street corner. During the day over 150 performers take to the streets, providing free live entertainment all over town in what is arguably the most exciting and comprehensive annual busking event in Cornwall. All the performers give their time for free to make LostFest a great family event.
From 5pm - 7.30pm the unbridled, festival sound of the Roving Crows will be coming from the Parade, close to the Skinners tent.
Arts & Crafts
The town will be packed with stalls selling arts, crafts, antiques and lots of other goodies, plus live demonstrations and workshops to watch and take part in. Green woodworking, willow working, felting and embroidery are among some of the skills you can observe and perhaps try your hand at.
Food & Drink
A dedicated Food Marquee will contain a selection food stalls selling delicious festival food from all corners of the world. Skinners beer tent can be found on the Parade and you might catch a glimpse of Betty Stoggs herself. You can also find refreshments at cafes, pubs and takeaways in town.
Kids
On the beach beside the river, next to the medieval bridge, you'll find face painting, magic displays and stalls plus a craft tent with free arts and crafts activities to keep kids (and parents!) busy.
Lost For Words
From midday onwards St Bartholomew's churchyard will be home to LostFest's own mini literary festival - readings by published poet Lorna Thorpe and members of Lostwithiel Writers' Group, plus book stalls from the regular St Bartholomew's book sale team.
In addition to the LostFest entertainment, visitors will have the chance to visit the Lostwithiel Museum and the Mayor's Parlour for a look at the town's history.
For more information visit the LostFest website or visit the LostFest Facebook page.