News
LostFest cheque presentation
Thursday 28th February 2013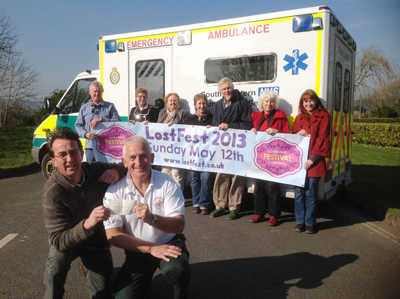 The organisers of LostFest 2012 presented a cheque to the charity FLEET outside Bodmin Hospital on Tuesday February 19th at 1.00pm.
LostFest 2012 raised £4,000 for the charity in the biggest one day event in Lostwithiel's calendar, with over 3,000 people attending the annual festival of arts, crafts and performance.
The presentation was made to Norman Trebilcock of FLEET.
This year's event LostFest 2013 will take place throughout Lostwithiel on Sunday May 12th and feature arts and crafts stalls and demonstrations, wall to wall music and dance, a food village, kids workshops and entertainments and a battle re-enactment group. Full details can be found on the LostFest website www.lostfest.co.uk.
Where to stay

You're never short of somewhere to stay in Lostwithiel, with a great choice of hotel and pub accommodation, plus lovely b&bs.

For the more independent minded there is a great selection of self catering character cottages and apartments.

If you want to be closer to the glorious Cornish countryside there's camping, lodges and yurts nearby.

Eat and drink

Lostwithiel is great for food lovers - there's somewhere different to eat every night of the week - with a choice to suit every taste and every budget, from award-winning restaurants to pub grub.

And if you don't fancy a sit-down meal, why not opt for a takeaway by the river?

Shopping

See and do

Businesses

Lostwithiel is full of indepdent businesses and organisations offering a wide range of services.

About the town

Lostwithiel is a historic town with a thriving community of independent shops and business, local groups and regular activities.