News
LostFest presents £3k cheque to FLEET
Wednesday 10th February 2010
By Melanie Jago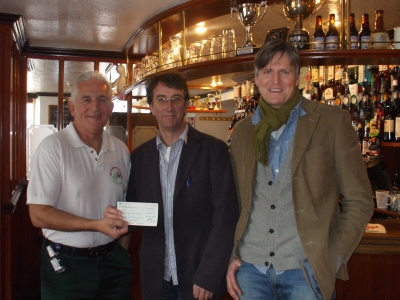 THE organisers of Lostfest - Lostwithiel's annual summer one-day festival hope to attract crowds of around 5,000 and smash their previous fundraising total.
Organiser Mike Dobbie is keen for as many people as possible to catch the train to this year's event on Sunday May 16 to cut down on traffic congestion.
Last week, he presented a cheque for £3,000 to the representative for FLEET, paramedic Norman Trebilcock and said he hopes they can hit £5,000 this year for the charity.
FLEET (Front Line Emergency Equipment Trust) provides equipment for all the ambulances in Cornwall.
Mike said: "This is going to be the fourth year of the festival and its growing at a bit of an alarming rate.
"We are going to have 100 stall holders and 60 have booked so far - if anyone is interested in having one it is great platform for artists to use to launch themselves.
"I think this event brings together the huge amount of talent that we have got locally and also the opportunity for people to have a voice through the festival itself."
New venues have been added to the event this year including a marquee on the Parade, the community centre as well as the playing fields.
There will be a huge selection of arts, crafts, antiques and demonstrations including a local black smith. Children will be well catered for with a craft workshop and there will be many food stalls, including exhibitors from the Lostwithiel Produce Market and Indian, Thai and Japanese cuisine.
Music will play a big part in the event with street musicians and dancers all day and from midday bands will take to the stage in a full programme including, jazz, samba, blues, folk, ska, funk, swing, soul, salsa and samba. The musical climax is BackbeatSoundSystem - a nine-piece samba collective.
FLEET co -founder Norman Trebilcock said: "Fleet has been around for 20 years and we have standardised al the ambulances in Cornwall. We were the first county to have mobile blood monitors on our ambulances. I'm pleased to say South West Ambulance Service has taken the baton. We are delighted Fleet is supported by the festival and our volunteers will be out in force collecting on the day."
Readers can support Norman who is running the London marathon with 22 other FLEET runners by visit www.justgiving.com/normantrebilcock.
Further festival information can be found at www.lostfest.co.uk or call the organisers on 01208 873063.
Text and image courtesy of The Cornish Guardian