News
Lost In Song celebrates 7th birthday
Sunday 30th March 2014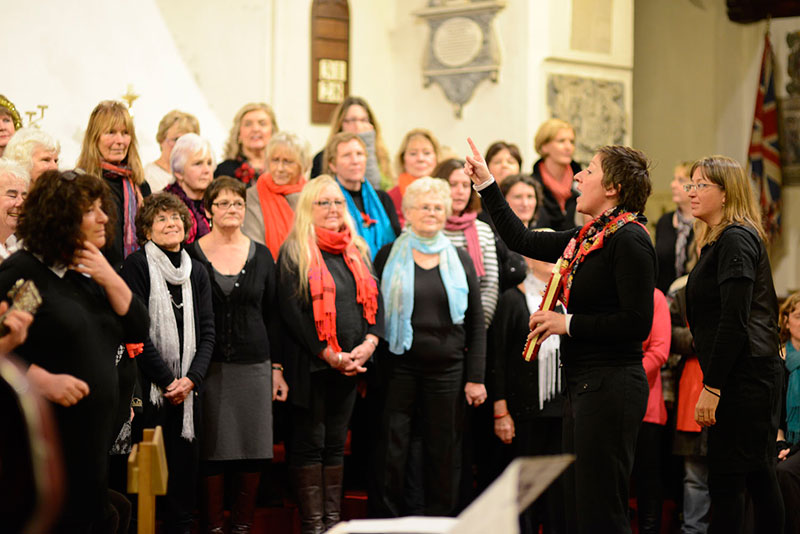 Lost in Song, the Lostwithiel based choir, celebrates its seventh anniversary this year with a series of concerts including a performance at this year's Cornwall Spring Flower Show at Boconnoc.
The singers range in age from 8 to 80 and they sing an eclecctic repertoire that spans eight decades of music from Adele and Snow Patrol to Emmylou Harris and George Gershwin.
The group was founded by Emma Mansfield, who now shares directing with Emily Foulkes.
Emma said: "Although we love the singing and arranging the music, Emily and I know the choir reaches far beyond that. It's the group and community we've created in and around the choir, which has become the most important aspect of what we do.''
Emily said: "We have people joining our group who have just moved to the area, have lost a partner, or are recovering from serious illnesses. We're often told that Thursday nights is the highlight of the members' week and it is such an honour to share our love of singing with such an interesting bunch of people."
Long-term choir member Linda Trevethan said: "It's the first thing I've ever done in my life just for myself. I've made such good life-long friends and that's changed my life forever. The warm-up exercises have helped my lung function and on top of all that it's such good fun.''
Tessa Hillman said joining the choir helped her to settle into Lostwithiel, where she knew no one: "After the death of my husband I started a new life here and through the choir I have met a large network of people who are involved in all manner of activities in this socially very busy and active town. I am so enjoying the singing and all the spin-off activities and contacts.''
To join Lost in Song contact Emma Mansfield on 07803 176416 or e-mail emma_mansfield@tiscali.co.uk
Pictured: Lost In Song performing at Dickensian Night 2013, courtesy of Peter Bland.