News
Gold Award in SW Tourism Awards for A Little Bit of Heaven
Friday 15th February 2013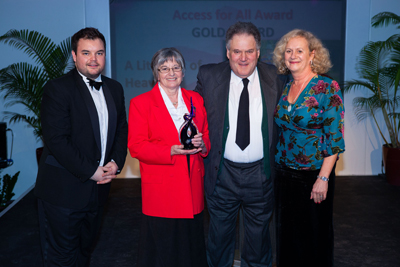 A Little Bit of Heaven, a country holiday retreat for famillies with disabilities or illness, are very pleased and proud to announce that their accessible accommodation has won the GOLD award for 'Access for all' throughout the South West, Cornwall, Devon and Somerset.
The award was presented to owners Peter and Daphne Rolling on Friday 8th February at the South West Tourism Awards Ceremony held at Eden Project.
A Little Bit of Heaven were selected following a rigorous judging process in which over 300 entries were considered for 60 different awards. Of the initial entries, 164 were shortlisted and then visited by a team of over 30 mystery shoppers.
A Little Bit of Heaven is a 43 acre working farm situated in St. Veep, a short journey from Lerryn and Lostwithiel. The farm has been in the Rolling family through three generations and Daphne and Peter pride themselves on breeding top quality piglets, calves and chicks.
They have developed a large old barn into two self catering studio apartments which have been finished to a very high standard, specifically designed and built for people with any disabilities and their families or carers.
For more information visit the Little Bit of Heaven page.