News
Duchy Palace - Your views needed
Wednesday 29th August 2012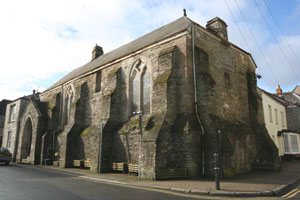 The Prince's Regeneration Trust, working with the Cornwall Buildings Preservation Trust are restoring the Duchy Palace. The regeneration project will provide new office space, a retail unit, community meeting space and heritage interpretation of the history of the building and surrounding area.
The Prince's Regeneration Trust want to hear the views of local residents. What do you like about the project and what could be done better?
From 5th September, copies of a questionnaire will be available for completion at numerous locations around Lostwithiel, including the Museum, St Bartholomew's Church, the Community Centre and the Doctor's Surgery. Alternatively, follow the link below to an online version of the questionnaire:-.
http://www.smart-survey.co.uk/v.asp?i=57903frtdm
Your views on the project are very welcome. In particular the Regeneration Trust are interested in how the project has, and will, impact upon your lives and community.
If you have any problems finding or accessing the questionnaire please send an email to Fran Dance at francesca.dance@princes-regeneration.org