News
Documentary about ground-breaking Lostwithiel ecologist
Friday 6th April 2012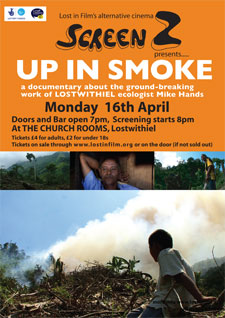 Lost In Film is holding a special screening of a documentary about the ground-breaking work of Lostwithiel ecologist Mike Hands, who will be available after the film for a Q&A session.
Slash and burn farming involves cutting and burning forests in order to create fields and it generates more carbon emissions annually than all global aviation put together. It is one of the biggest contributors to deforestation and global warming and is directly involved in two of the greatest threats to global stability: accelerating climate change and diminishing food security.
Mike Hands, who has lived in Lostwithiel for 40 years, has dedicated his life to unravelling the science behind slash and burn farming in equatorial rainforests. He has laboured for 25 years, mainly on projects in Central America, to perfect a sustainable technique to replace the destructive method of farming. He has found a solution which has the potential to have a massive global impact and improve the lives of the many hundreds of millions of people who currently depend on it.
The documentary, Up In Smoke, has been selected for numerous festivals, nominated for several awards and was screened at last year's Cornwall Film Festival. The film follows Mike for 5 years as he attempts to persuade the government of Honduras to support his project, international organisations to fund it and most importantly, local farmers to try his farming techniques instead of slashing and burning.
Up In Smoke will be shown on Monday 16th April, at the Church Rooms, Church Lane, Lostwithiel. Doors and bar open 7pm, film at 8pm. Tickets cost £4 for adults and £2 for under 18s, and are available online from www.lostinfilm.org.uk in advance from Watts Trading or on the door if not already sold out.