News
Dickensian Evening 2009
Thursday 10th December 2009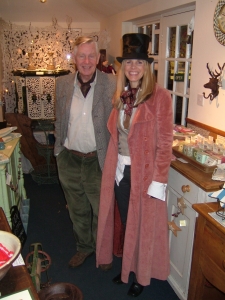 Lostwithiel's Dickensian Evening 2009 will be held on Thursday December 10th beginning at 6pm and going on until late. This year will be bigger and better than ever with more music, more food and more good will.
If your wondering what goes on, your in for a treat, you'll find an old fashioned Victorian Style evening in our Christmas Tree lined streets, with all the local shopkeepers open and dressed up in period costume offering a warm welcome and those unusual gifts you won't find anywhere else and maybe some mulled wine to ward of the winter chill. You'll hear town bands playing and choirs singing carols and Christmas songs, bell ringers ringing, buskers busking, street entertainers entertaining you and an old fashioned childrens roundabout. We will also have some of our Historic buildings open to the public with our Town Mayor in attendance.
There's no need to eat before you arrive as we will have lots of food available around the town, including a Soup Kitchen, Christmas Sausages with the trimmings, Turkey and cranberry pasties, hot chestnuts and other festive foods and drinks. Or why not book into one of the many food establishments and enjoy there special menus. You'll also find stalls indoor and out selling antiques, books and christmas crafts, many of which are run by local charities so you can feel good about buying those extra stocking fillers.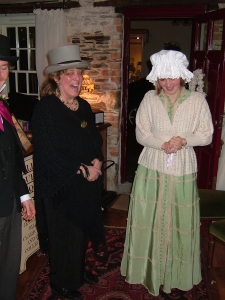 Don't think about heading home early when the streets start to empty, there's lots of entertainment in the local pubs, The Kings Arms on Fore St will have live music from 9pm with the kit hillbillies and Captain Pugwash who will also be performing around the town throughout the evening with his old fashioned sing along squeezebox that is not to be missed, The Globe will also have live music from 9pm.
So come and join us for Dickensian Evening this year and experience Christmas as it used to be, you'll be in good company and it will really get you in the festive spirit. If you would like any more information, or you are interested in getting involved or having a stall call 01208 873912 and ask for Adrian.