News
New flower bed at Cott Road
Wednesday 14th April 2010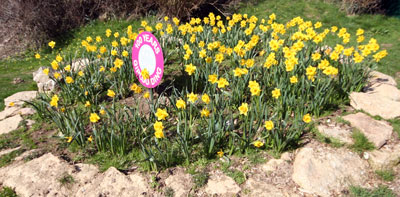 A new flower bed at the corner of Cott Road and Liddicoat Road is in full bloom for the first time since it was created at the end of last year.
The flower bed was planted up with daffodil bulbs by Brownies and Guides as part of a celebration of 100 years of Guiding. The Lostwithiel Museum which reopened at Easter, also has a window display celebrating the Guiding anniversary. In future the flower bed will be used by different community groups and to mark special celebrations and events in town.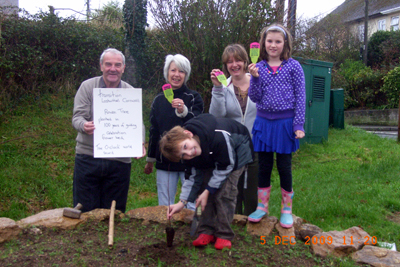 As well as the daffodils, a Rowan tree was planted by Mayor Vic May and volunteers from Transition Lostwithiel.
The tree planting took place on Saturday 5th December 2009 as part of Tree O'Clock, a world record attempt at tree planting. Transition Lostwithiel received a "Take A Bough" certificate for its participation.
The road verges along the A390 are covered in even more daffodils, thanks to the efforts of Lostwithiel In Bloom.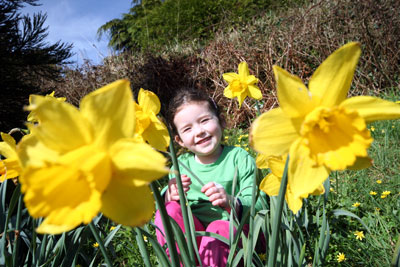 Rosie, pictured below, helped Blooming volunteers plant new daffodil bulbs along the left side of Liddicoat Road (as you approach Lostwithiel from Liskeard) back in 2009. The daffodils are now in full bloom and make a spectacular display on the approach into town.
Lostwithiel In Bloom is made up of volunteers who maintain the planters and flower beds around town. The group is co-ordinated by Transition Lostwithiel and is always looking for people to get involved in the project - no gardening experience is required. For more details visit the Lostwithiel In Bloom page.
All though this year's daffodils have arrived a bit late following the unusually cold winter, they are now are in bloom all over Lostwithiel in the warm Easter sunshine: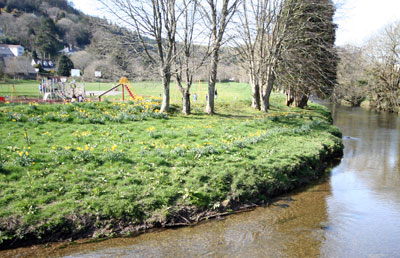 Daffodils along edge of the river Fowey next to the King George V playing field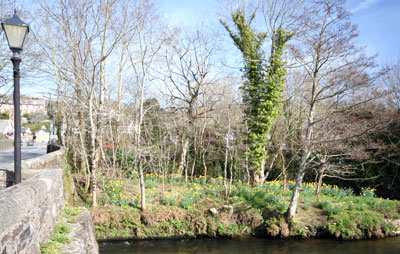 Daffodils on the island under the Medieval bridge over the Fowey at Lostwithiel