News
Community rug presented by the Rug Hookers
Sunday 20th April 2014
Lostwithiel Rug Hookers group have presented a community rug depicting the town to Lostwithiel Community Centre. The rug is on display in the Centre Cafe and is made from scraps of recycled fabric.
Rug Hooker Joh Goodchild came up with the idea for he rug 18 months ago. During that time, many members of the 20-strong group have worked parts of the rug and the result is truly a combined effort.
The Rug Hooking group was formed 12 years ago and meet in the Community Centre every Tuesday morning from 10.30 to 12.30. Sessions are £1 and all the money raised is donated to local good causes.
Members make wall-hangings, rugs, cushions etc. from discarded fabric such as old wool jumpers, skirts, fleece. They use traditional tools onto hessian backing. These tools are either for prodding or hooking (not to be confused with latch-hooking). They have tools and equipment that beginners can try out before buying, and books to browse through to get ideas.
New members are welcome to come along and get involved. If you have any old felted wool jumpers, tweed skirts or fleece please bring them in.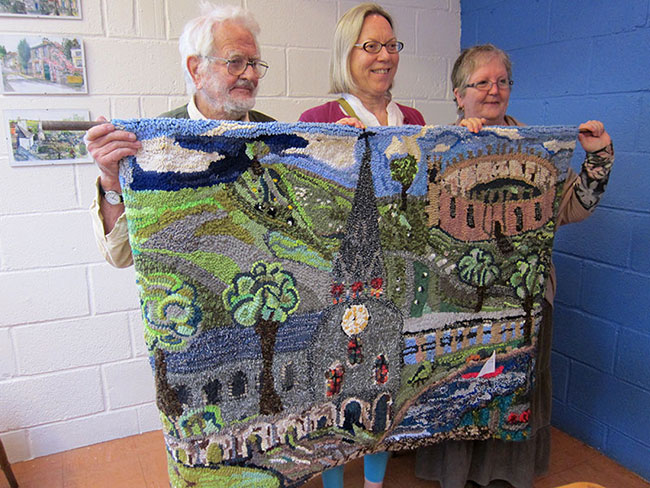 Pictures of the rug in progress: