News
Christmas pageant 2009
Saturday 19th December 2009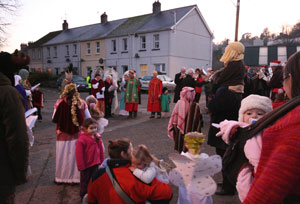 This annual colourful event was introduced to the town of Lostwithiel back in the early 1980's by Cornish Bard Rachel John. Taking place during the second Saturday in December. Up to thirty local residents dress up as various nativity characters and Cornish saints to form the pageant tableau.
Assembling in a local community hall, Christmas themed musical entertainment is booked to entertain the large number of families who attend.
They all subsequently depart just before dusk accompanied by the Lostwithiel Silver band, a donkey and a newly born lamb. Walking to various pre advertised locations within the town singing Christmas carols at each stop.
Along the way mulled wine and hot beverages are served to keep the singers and musicians in good voice. At the end of the walk everyone returns to the hall for a welcome mug of hot soup and bread roll.