News
Business Group celebrates 10 year anniversary
Sunday 19th June 2011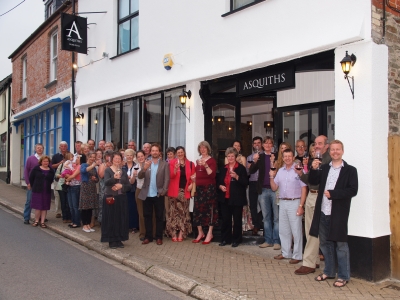 Lostwithiel Business Group celebrated its tenth anniversary at the town's newest restaurant Asquiths - fittingly the group's 100th and newest member.
The business group is behind annual events including Dickensian Evening which will be held on Thursday 15th December this year, the week long Food Festival during half-term week which is due to run from October 22nd, and is a major contributor to LostFest.
Asquiths Restaurant is run by Sally and Graham Cuthbertson who have recently moved to Lostwithiel. The food is described as modern British using seasonal, local ingredients, and the opening hours are Tuesday to Saturday 7 - 9 pm. Reservations can be made by ringing 01208 871714.
Chairman Adrian Barratt said "Having so many members helps us do big things like collective advertising, a superb town website, leaflets, a marquee at the Royal Cornwall Show and dressing the town at Christmas with trees and lights.
"The group has members representing everything you can imagine from accommodation to food and drink, engineering to financial advice. But we're always on the lookout for new businesses who would like to join and get involved."