News
Boconnoc wins Restoration Award
Tuesday 14th August 2012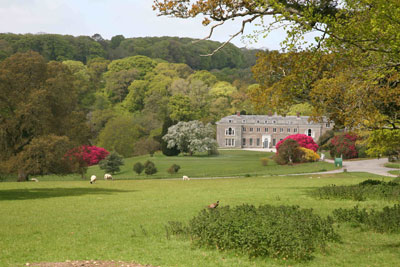 Boconnoc, near Lostwithiel, is celebrating the win of the 2012 Historic Houses Association/Sotheby's Restoration Award for the restoration of Boconnoc House which has taken place over the last ten years.
Following the Second World War, when it was occupied by American troops, the house lay abandoned for nearly 30 years and fell into a poor state of repairs. The historic house has since been comprehensively restored to its former glory by the current owners, Anthony and Elizabeth Fortescue who acquired it in 1995.
Boconnoc was unanimously voted as this year's winner by the judges both for its overall revival and the outstanding renewal of the main ground floor rooms, in particular the painted staircase influenced by Sir John Soane.
Boconnoc House dates back to the Domesday Book of 1087 when a tax on the estate and house was recorded, and has been home to the families of three 18th century Prime Ministers.
Edward Harley, President of the Historic Houses Association, said: "I am delighted that Boconnoc House has won our Restoration Award this year. The house, which dates from 1250, has been home to the Fortescue family since 1834 when it passed by descent to them from the Pitt family. The current owner Anthony and his wife Elizabeth have worked extraordinarily hard since 1997 to breathe new life into a house which had lain empty for over thirty years. Now this important house hosts weddings, conferences and a large number of special events, most recently the Boconnoc Music Award, and once again plays an important part in local and national life."
Anthony Fortescue, commented: "We would like to thank all those who have worked on the project, or visited the estate over the years as you have all been instrumental in this incredible project being completed. The heart of the estate is now alive and seeing lights sparkling from the windows in the evening during a wedding really is a wonderful feeling."
Photography courtesy of Boconnoc