What's on
Lostwithiel Gin Festival
Saturday 29th June 2019, 11:00am to 9:00pm
Location: Central Lostwithiel
.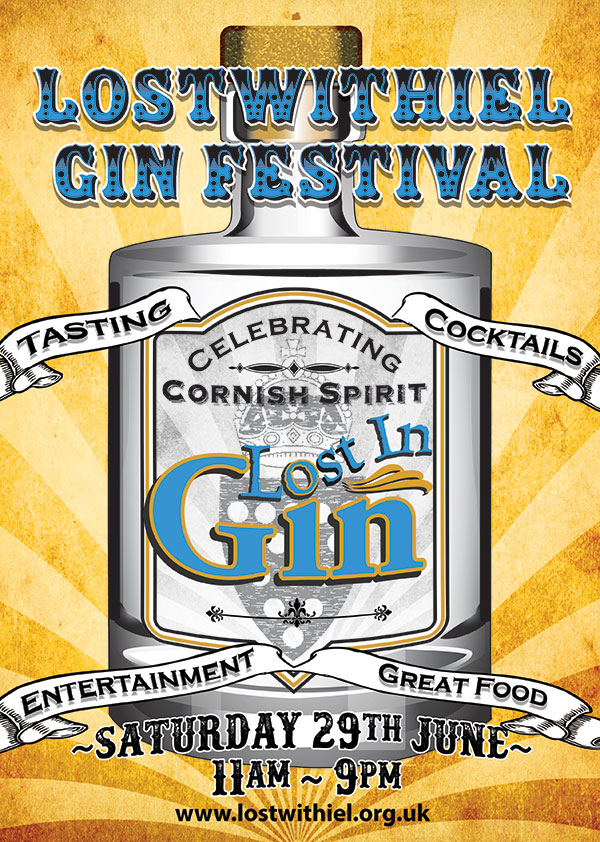 Following the fantastic success of the Gin Festival in Lostwithiel last year we are holding another! So the date this year is Saturday 29th June.
Once again there will be a plethora of Cornish Gins available, even more than last year, we'll have makers from all over Cornwall joining us, offering their wares, tasters and advice helping you choose the perfect Gin for your tastes.
We'll be running a Gin Bar where you'll be able to choose your preferred Cornish Gin from the Menu then choose one of our great cocktails or one of a selection of Fever Tree tonic waters.
Amongst those Cornish gin makers represented at our Gin Festival you'll find:
Gin - Distillery
Caspyn - Pocket Full of Stones
Curio - Curio Spirits Co.
Elemental - Cornish Gin Co.
Fowey River - Haye Farm
Foy - Fowey Valley
Holly's - Holly's Gin
Jynevra - Atlantic Distilery
Lantic - Lantic Gin
OTR 18 - On The Rocks
Rock - Rock Gin
St. Ives - St Ives Gin Co.
Staffords - Colwith Farm Distillery
Tarquins - Tarquins
Tinkture - Tinkture
Trevethan- Trevethan
Green Cart Farm Distillery giving Gin making demonstrations
You'll also fine Lostwithiel's own:
Rathlee Rum
Cornish Country Cordials will also have a stall, their products work really well with gin alongside Mother's Ruin bespoke made Gin Boards.
Fever-Tree is our official tonic supplier with a range of different flavours to choose from. You'll be spoilt for choice for food, all our local eateries will be open, be it sourdough sandwiches or fish and chips, pasties or a cream tea, the pubs and restaurants will be offering something more substantial if you need to refuel. On-site we'll have Kernow Forno with their delicious wood-fired pizzas, Big Pan with Paellas, Chilli, vegetarian and lots more, Q Street Coffee with hot drinks and sandwiches and Bellamama Deli will be offering summer tapas alongside Cornish Gouda with their tasty tasting plates. You will not go hungry!
There will be live entertainment all day including:
Pitch Black -Jazzed up Piano & Drums
Lostwithiel Town Band
Lost in Song - Lostwithiel's amazing choir
The Buzzards - Folk, Roots with fiddle & Mandolin
Java 5 - five piece close harmony a capella
Then in the evening from 7pm, you will be entertained by:
The Roustabouts Collective - A musical experience that will amuse, bemuse and amaze
Come and enjoy all Lostwithiel has to offer, browse the shops for Antiques, Vintage, Homewares and much much more in between sipping your favourite Gin alongside the River Fowey under the canopy ancient trees or take a stroll down to the 'beach' by the medieval bridge. Bring a blanket, a picnic, soak up the atmosphere. Fancy a go at Gin making, Green Cart (recently featured on BBC 2) will be here giving demos from 2pm talking about their favourite ingredients and how to get the Gin just right.
This is a not for profit event organised by Lostwithiel Business Group, its all run by volunteers and all funds raised will be going towards helping put on more great events like Sing Along the River, our famous series of evening musical extravaganza every Thursday evening in August.
Last year profits raised went towards new stretch tents, staging, bar, electricity points and a storage shed for the Parade area.
Please drink responsibly but generously, donations extremely welcome.
If you are lucky enough to look under 25, then don't forget your ID, bring smiles, and good humour, patience (we may be really busy on the bar) and we will have a fantastic day together. We have arranged more trains stopping in Lostwithiel, then it's just a 1 minute walk over the old bridge, you'll see and hear us, please come by rail if you can, then you can enjoy the day to it's full, just drive to your nearest station and jump on the Gin Train. As you know Lostwithiel is a small, beautifully proportioned ancient town and has limited parking so it will be first come, first served, if you have friends in town, ask if you can use their driveway, get dropped off, stay overnight, definitely car share with your new total designated driver friend (there will be soft drinks).
There may be last-minute changes to the timetable so please double-check before you travel.