What's on
Dickensian Evening is Back!
Thursday 8th December 2022, 5:00pm
Location: Central Lostwithiel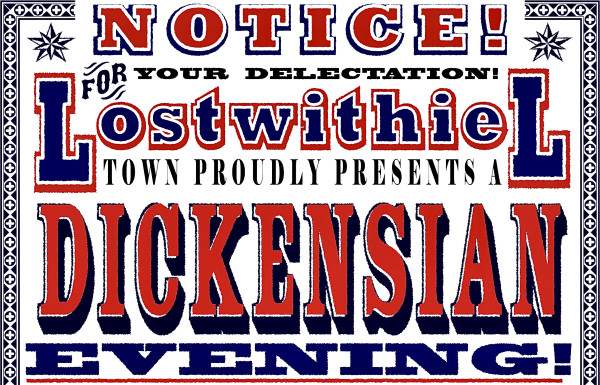 Latest Update
It's nearly here! The three-year wait for the famous, if not fabled, Dickensian is nearly over.
The big tree is up on the Parade, the little trees are lit at night and already bringing some much-desired seasonal cheer to our lovely Town
. So, what more fun will our latenight shopping event bring?
Imagine it's 6pm on 8th December. The sky is clear (hopefully) and starry,a full moon illuminating the night. All the houses and shop windows are decorated and lit, and the church bells ring out. Many of the shopkeepers are in outfits from the Dickensian era. Queen Victoria and a lady in waiting can be seen browsing the wares on display. . . At the top of Fore Street, as the church bells finish, Lostwithiel Town Band strikes up and the event gets underway.
Complementing our fine shops there are traders selling food, drink, and gifts… you might even find a free nibble or tot on the way. Towering over the crowd are giants, and all around Town run little urchins (or children!) desperately seeking missing Lego for the Grinch and the chance of a sweet treat.
Santa is sitting in a lovely Grotto down the Guildhall alleyway with gifts to give away. However, the Grinch is in his cave not far down the road, waiting for you to give something to him (he will be giving it to charity or the food bank, but don't tell him that!) Shhh!
You peruse the Antique and Vintage shops on Queen Street and then, as you wander down through the Town, popping in and out of the shops, you smell the aroma of cooking food, and music from one of the Choirs in the Church fills the air.
The Social Club is open, with crafts and arts stalls to browse – as you leave you see that the Church Rooms is also open, with more brilliantly creative souls; a chance to buy that loved one something quite unique.
As you turn right down Quay Street another troop of music-makers lifts your spirits - yet more gift opportunities; even somewhere to make your own Christmas Cards! Heading back past the Co-op, stalls on the Parade offer noodles, pizza, Mexican food and drinks to keep you going!
If you come by train (recommended), your route is reversed, but again you will be entertained, inspired, and filled to the brim with grub 'n' grog!
We make a heartfelt invitation to you to come out and enjoy our Town, support the local businesses, and join in with an event which, without your support, could not continue.
If anyone feels they could lend a hand on the night, please do contact us at events "AT" lostwithiel.org.uk.
PARTICIPANTS 6-9pm Thursday 8th December

Queen Street - Stick Antiques and Vintage - Stephen Foye

Fore Street - Choughs - Dower House - Lostwithiel Museum-Penhaligon's - Ann's Gallery - Bellamamas Deli - Mountchase Pharmacy
- A P Bassett Solicitors - Watts Trading - Cindy Ashbridge Jewellery - Alice in Scandiland- The Social Club (With Stalls) - Sunny Spice
- Foodies - Restormel Kitchen - Lilyboo - Sweet Magnolias - Uzella Antiques - The Mess Hall - Romantic Englishwoman

Church Lane - The Church Rooms (With Stalls!)

Quay Street - White Lights - Lamb

North Street - The Globe Inn- Asquith's Restuarant


STALLS WILL INCLUDE:
Children's Clothes - Silver Jewellery – Watercolours - Fused glass -Metal jewellery and plaques – Ceramics - Bags and Accessories
- Hand Painted Art and Jewelled Items - Christmas Decos and Stocking Fillers - Cards - Prints - Maps & Drawings of Cornwall - Wood Turning
- Lostwithiel Guide Dogs - Local Merchandise - Vegetable Boxes – Cheese

FOOD STALLS
French Crepes - Mexican - Noodles- Thai - Tea, Coffee & Cakes - Pizza -Various Distilleries – Pies – BBQ
Problem viewing Video ? CLICK HERE

**********************************************************
Update 4th November 2022
Work to prepare for the return of Dickensian Evening on December 8th is in full flow - with just a month to go! Stalls and local shops will be open late for you to get your Christmas presents sorted, streets will be lit and decorated, with a range of seasonal entertainment around Town, plus lots of food and drink to enjoy. It all starts at 6pm – the December Newsletter (out December 2nd) will have full details.
We're hoping for good weather to make it a real bumper night to get Lostwithiel's Christmas season started! We know that the closure of Fore Street and Church Lane, as we prepare for and run the event, can causes some difficulties to those living in town. If you'll struggle with parking, we have a solution – email events AT lostwithiel.org.uk with your name and address and we will try to make things easier for you.
It will add to the fun and atmosphere if all who are able to, have a go at dressing up in Victorian style – anything from a token shawl, basket and long skirt to a full costume! Suzette in Sweet Magnolias is happy to give advice if you pop in. Of course, you don't need to dress up to support your local businesses and enjoy the spectacle, and we look forward to seeing you out on the night!
-------------------------------
Update 7th October 2022

On the 8th December, Lostwithiel will see the return of Dickensian Evening; our streets will once again be filled with crowds who come to enjoy a traditional Christmas experience, whilst supporting our local businesses.
The evening kicks off at 6pm and we would like as many as possible from the local community to join in and make this a great return after three years away.

Many shops on Queen Street, Fore Street and Quay Street will be opening late, and we'd love you all to join the shopkeepers and dress up in Victorian garb.

You'll see the Craft and Arts stallholders, Performers and many Townspeople kitted out in old- fashioned costumes, in case you're feeling nervous you'd be the only one!

We'll tell you more about what's happening in November but there will be performances of festive music throughout the evening, both in the street, and in venues around Town. It's an event for all the family, with something for all ages, including a Santa's Grotto - and a Grinch Cave - plenty of seasonal refreshments, lashings of mulled wine or cider, and lots and lots of great food.

While you're in Town, enjoy the festive scenes of the annual Advent Window Trail (Numbers 1-8 will be decorated and illuminated by the 8th) and the twinkling Christmas trees above shops and houses.

Join in the dressing-up fun and kit yourself out Victorian style; it doesn't have to cost a fortune (watch our Facebook feed for ideas).

If you have any ideas, can provide some support or just want to cheer on the efforts of Lostwithiel Business Group, drop us an email at : events@lostwithiel.org.uk