Lostwithiel Town Council
Lostwithiel Town Council holds public meetings on the first Tuesday monthly at Lostwithiel Community Centre starting at 7pm.
The Annual Meeting of the Council usually takes place in May and the Annual Parish Meeting taking place between 1 March & 1 June, when Lostwithiel's Cornwall Councillor, representatives from Cornwall Council, the Police and local organisations are invited to give reports. The Mayor and each Committee Chairman, except the Staffing Committee Chairman, gives a report and members of the public can ask questions.
All Councillors are volunteers and serve the community in their own time. The Town Council employs two part-time members of staff: a Town Clerk and an Administration Assistant.
Find out more about Lostwithiel Town Council including meeting dates, minutes, Planning Applications and the Flood Plan
Neighbourhood Plan
A Neighbourhood Plan is a document that sets out how development is controlled for a particular area in the future. It has to comply with national and local policies, but it gives local people a much bigger say in how these policies are put into effect. It has a legal status and must be taken into account when considering planning applications in the future.
The Lostwithiel Neighbourhood Development Plan, having been approved by more than half of those voting at a referendum held on 21 February 2019, is now being used by Cornwall Council as part of the development plan for Cornwall. The plan may be read via this link. (File size approx 4MB)
Read more about the process followed when developing the Neighbourhood Plan
Flood Plan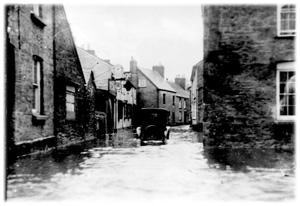 The centre of Lostwithiel has flooded countless times since the creation of the town in the early part of the 12th century. The earliest known written document reported flooding on 18th December 1839. Further written articles show major floods during the 19th century occurring in 1866 and 1894. Many floods happened in the 20th century, notably in 1903, 1928, 1979 and 1999. Although a substantial flood bund was constructed along the riverbank in 1960, it hasn't decreased the risk and Lostwithiel flooded again in 2010 and 2012.
Early photographs show flooding in Queen Street and North Street, similar to what has been experienced in recent years.
Flooding affects specific areas and the majority of the town and roads are unaffected. Although some areas such as Coulson Park are regularly submerged, severe flooding which affects properties is rare.
View the Lostwithiel Town Council Flood Plan
Below: Queen Street in the early 1900s (left) and in 2010 (right)