In the area
Once you've visited the places to see in Lostwithiel, don't miss the world-class attractions within a few miles of the town.
Lanyhydrock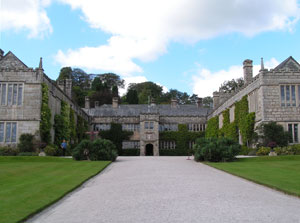 Lanhydrock is a magnificent late Victorian country house just 5 miles from Lostwithiel with extensive servants' quarters, gardens and wooded estate. With 50 rooms open to the public it offers the ultimate 19th century "upstairs/downstairs" experience. Of particular interest is the 17th century gatehouse and long gallery.
The grounds are particularly stunning in spring with bluebells throughout the woods and a large collection of magnolias.
Information:
owned by the National Trust

car parking at entrance (disabled parking at house)
toilets
shop and restaurant
adventure playground for children
Church service every Sunday at 9:45
dogs allowed in grounds
Eden Project
The world famous Eden Project is hugely popular all year round and located just 3 miles away from Lostwithiel. Two vast artificial biomes have been created in a reclaimed clay-mining pit housing a tropical rainforest in one biome (the largest greenhouse in the world) and a Mediterranean environment in the other biome.

There's much more to the Eden Project than the biomes: world famous architecture and art, drawing inspiration from nature, in The Core building, interactive displays to educate and inspire, workshops, demonstrations and many other sights and activities to enjoy. It's an ideal destination for families with children as there are great facilities, a huge site to explore and plenty of places to grab a snack or a full meal.
In the summer the Eden Project is home to the Eden Sessions for intimate concerts with world class bands. Visit the Eden Project website to see what's on at the moment.
Information:
car parking with buses to entrance
toilets throughout the site
several cafes, restaurants and a large gift shop
Dogs are allowed into Eden Project, but not into the restaurants or Biomes. They are welcome in the external gardens which make up two thirds of the Project and there are customised dog shelter car ports where they can be left safely in the car, as long as windows are left open for air circulation and water provided.
Fowey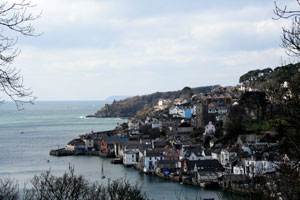 Fowey (pronounced Foy) is a charming town with stunning views across the estuary. Its narrow winding streets are home to top quality shops, galleries, cafes, restaurants and pubs along the water's edge. The natural deep water harbour allows mooring for boats of all sizes and there are many activities available including sailing, kayaking and swimming at Readymoney Cove.
Visit the Love Fowey website for what to see and do in Fowey.
Great authors have been drawn to Fowey including Daphne Du Maurier, Sir Arthur Quiller Couch (known as "Q") and Wind in the Willows author Kenneth Grahame.
The Fowey Festival of Words and Music is an internationally popular event based at the spectacular Fowey Hall.
Fowey is steeped in history. In Tudor times it had a reputation for buccaneering and the pirates who sailed from there were called the Fowey Gallants (now the name of the sailing club). The 15th century church dedicated to St Fimbarrus is located in the centre of town. The Esplanade, with fine views across the estuary, leads to St Catherine's Castle built by Henry VIII.
View places of interest along the River Fowey using Google Maps
Information:
main car park at top of town; additional car park at Caffa Mill
shuttle bus to car parks in summer (limited winter service)
car ferry from Bodinnick; passenger ferry to Polruan
numerous cafes, restaurants, pubs and take-aways
Lerryn
Lerryn, a village three miles from Lostwithiel, is situated on the Lerryn creek, a tributary of the Fowey river. Like Lostwithiel, the river is tidal at Lerryn and at low tide you can cross the river via stepping stones.
Kenneth Grahame is said to have based The Wind In The Willows in and around Lerryn; to this day it is surrounded by ancient woodland and is home to a wealth of birdlife such as egrets and kingfishers. There are beautiful walks along both banks of the river, including National Trust woodland at Ethy which leads to St Winnow. Encounter Cornwall run kayak trips starting from Lerryn at high tide.
Information:
free car park
picnic area
public toilets
village shop sellings ice-creams, teas and coffees and pasties
Ship Inn public house
Bodmin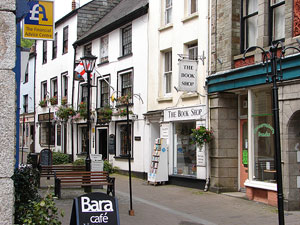 Bodmin is the original County town of Cornwall, located on the edge of Bodmin Moor. It's the largest town close to Lostwithiel and has several large supermarkets and shops.
Bodmin has a long history dating back to St Petroc in the 6th century. The town flourised as a religious centre in medieval times and became an important market town. It was the centre for three Cornish rebellions in the 15th and 16th centuries which saw armies of Cornishmen marching on London.
Bodmin is the start of the Camel Trail, a traffic free route for walkers and cyclists along a former railway line which leads to Wadebridge and Padstow.
There are several attractions to visit including Bodmin Jail, the Bodmin and Wenford Railway, Cornwall's Regimental Museum or Courtroom Experience.
Luxulyan Valley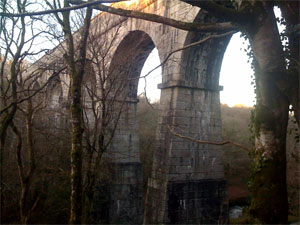 Luxulyan Valley has been designated a World Heritage site due to the extensive 19th century industrial remains set in a boulder strewn, thickly wooded valley which is now a tranquil haven for wildlife.
Joseph Treffry was the man responsible for the development of mining in the valley and the infrastructure constructed around it. Notable features of the former industry which remain to this day include the iconic Treffry Viaduct across the valley, a system of leats to provide water power, and Ponts Mill water turbine which has been restored and now generates electricity.
The Friends of Luxulyan Valley conduct talks and tours in the valley throughout the year. Visit their website for further details on the history of the area and latest events.
Information:
car parks at both ends of the valley
pulblic toilets in Luxulyan village
King's Arm pub in Luxulyan village
dogs allowed
Images by Cathy Connolley, Mat Connolley and Tomhannen