Cycling
Whether you enjoy mountain biking, touring or a gentle pedal there are many cycling options on your doorstep in Lostwithiel. From off-road trails at Cardinham woods to family-friendly traffic-free routes at the Camel Trail, Clay Trails and Pentewan, there's something for everyone.
There are several cycle hire places, particularly along popular trails, or you can use a company like Go By Cycle which delivers hire bikes to your door.
Lanhydrock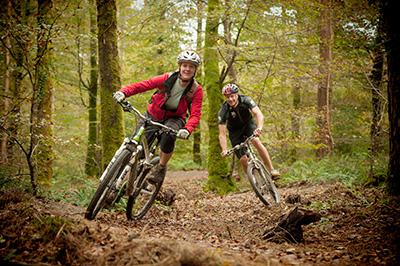 In the woods near Lanhydrock House there are a range of cycle trails, a large modern cafe and an adventure play area. More information on the Lanhydrock website.
Green (easy) grade trail: Lodge trail - 2.5km (1 ½ miles) 15-30mins
This gentle ride takes you deep into little explored woodland on the estate. Suitable for families and beginners the trail is wide, well surfaced and has no challenging technical features. This trail is also suitable for trailers, tagalongs and disability bikes
Blue (moderate) grade trails
Bazley's trail - 3km (2 miles) - with easy technical features.
Walter's trail - 1km (2/3 mile) - short technical single track - moderate gradients.
Hart trail - 1.5km (1 mile) - exciting single track - moderate gradients.
Timber trail - 1.5km (1 mile) - some short optional red grade sections
Red (difficult) grade trails: The Saw Pit - 500m (1/3 mile) 5mins
Packed full of technical features and favouring skill over speed, the two Saw Pit trails are a great place to develop your trail riding skills. The trails head downhill alongside each other, allowing you and a friend to ride side-by-side and push your limits.
Skills area
This is the perfect place to start your off-road cycling adventure, allowing you to practice and progress your skills. You'll find many of the features found on the cycle trails, including rollers, rocks and jumps. The skills area also includes a balance bike track, designed to control speed and improve the confidence of young cyclists.
Photo © Steve Hayward, National Trust
Visit the Facebook page for more information.
Cardinham Woods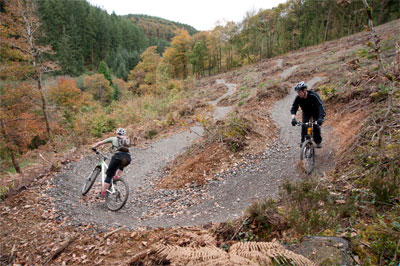 12km of off-road trails were opened in Cardinham Woods in 2013. The Bodmin Beast blue grade cycle trail is suitable for cyclists with a moderate level of off-road experience and keen mountain bikers. It explores the wooded slopes of the Cardinham Valley and includes number of technical climbs and descents, snaking single track trail and features such as tight bermed corners, small step downs, rollers and table tops.
There are also two sections of difficult red grade trail, which loop off of the main Bodmin Beast, suitable for proficient mountain bikers: 'Dialled-In Dave' and 'Hell's Teeth'.
There is car parking at Cardinham Woods and refreshments at Woods Cafe. Cardinham can be reached by cycling from Lostwithel by cycling along Cott Road, past the Golf Club, Duchy of Cornwall Nursery and Lanhydrock then to Cardinham.
Visit the 1SouthWest website for more information

Camel Trail
The Camel Trail is a hugely popular recreational route which follows disused railway lines from Padstow on the north coast to Bodmin, and also up to Poley Bridge on Bodmin Moor. In total the trails cover 18 miles which are largely traffic free and surfaced.
Bike hire is available in Bodmin, Wadebridge and Padstow.
The route follows the Camel river and countryside varies from lush woodland between Bodmin and Wadebridge/ Poleys Bridge to sweeping views across the Camel estuary between Wadebridge and Padstow.
Refreshments are available at various points along the way, including pubs and tea rooms. The route also passes Camel Valley vineyards which offer tours and tastings.
The start of the trail at Bodmin can be reached by car, with car parks next to the trail, or by bicycle from Lostwithiel by cycling along Cott Road, past the Golf Club, Duchy of Cornwall Nursery and Lanhydrock then joining National Cycle Route 3 to the start of the Camel Trail.
More information about the Camel Trail on the Cornwall Council website
Clay Trails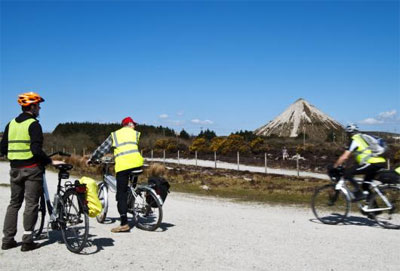 The Clay Trails are largely traffic-free routes through heathland, woodland, coastline, country lanes and Cornish mining villages of Clay Country, the area dominated by China clay mining since the Industrial Revolution and which is still mined today.
Not only will you find fascinating industrial archaelogy, but you'll see the dramatic effect mining has had on the landscape. Sometimes called the Cornish Alps, the landscape is dominated by towering conical clay tips, turquoise pools and lakes coloured by mica and historical buildings such as drying chimneys.
The restoration of the Clay Trails has provided new habitats for wildlife and you'll see sculptures celebrating the local community and mining heritage of the area dotted along the route.
Cycle hire is available from St Austell and refreshments are available at pubs at various locations on the trails. The trails also link to the Eden Project, which offers reduced ticket prices for visitors who walk, cycle or use public transport.
Visit the Clay Trails website for maps and facilities
Pentewan Trail
A very gentle cycle route follows the Pentewan Valley from St Austell to the picturesque village of Pentewan, which has a sandy beach popular for water sports. There is cycle hire available from St Austell or Pentewan.
Touring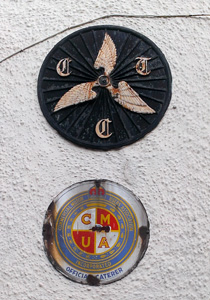 There's no point in beating around the bush: cycling in Cornwall - apart from way down west around Land's End - is hilly. There are countless steep descents to tiny rivers followed by the inevitable and equally steep climb up the other side. If this doesn't fill you with alarm, there are beautiful rides with stunning views to be had along very quiet country lanes all over South East Cornwall.
From Lostwithiel it's possible to ride in many directions, towards Fowey, Looe, Luxulyan Valley and Bodmin Moor. Because we're on the main railway line you can ride one way and catch a train back (be sure to check in advance which trains you can take your bike on).
Every year, thousands of people cycle the end-to-end (John O'Groats to Land's End) and many stop in Lostwithiel. Visit the Where to Stay section if we're on your planned route.
The logos on the right are on a wall of the King's Arms. The CMUA (Commercial Motor Users' Association) formed in 1908 and no longer exists, but the CTC (Cyclists' Touring Club) which was first set up in 1878 is still going strong as the UK's largest cycling charity.