Lostwithiel Annual Produce Show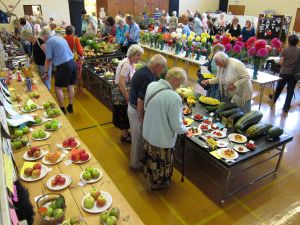 UPDATE AUGUST 2022 - THE ANNUAL PRODUCE SHOW WILL NOT TAKE PLACE THIS YEAR.

The Annual Produce Show is run by the Lostwithiel Garden Society in conjunction with Lostwithiel Women's Institute and Lostwithiel & District Floral Art Group.
The first Produce Show was held in August 1958 although the Garden Society had been in existence since 1941.
One of the founding members, Les Stephens from Treffry Lodge, Lanhydrock recounts that the Garden Society was started to reflect the war effort of self-sustainability in growing vegetables. Old Garden Society minutes show there were originally two shows annually - one principally flowers and the other vegetables - which was replaced by a single Annual Show in 1984.
These are the dates, locations and who the show was opened by from the first show through to its current location at the Community Centre:
August 1958 - opened by Lady Mayoress of Lostwithiel Howe, held at Drill Hall
8th November 1958 - opened by Mayoress of Lostwithiel Mrs S. Brown, held at Drill Hall
August 1959 - opened by Mayor Poole, held at Drill Hall
November 1959 - opened by Town cryer, held at Drill Hall
August 1960 - opened by Mr Kendall, held at Drill Hall
November 1960 - opened by unknown, held at Drill Hall
August 1961 - opened by Mayor of Bodmin, held at Drill Hall
11th November 1961 - opened by Mayoress of Bodmin Mrs Lees-Barton, held at Drill Hall
28th July 1962 - opened by Mayoress of Lostwithiel mrs Sykes, held at Drill Hall
3rd November 1962 - opened by Mrs Olive Stephens, held at Drill Hall
July 1963 - opened by Mayoress of Lostwithiel Mrs Ough, held at Drill Hall
2nd November 1963 Mrs Santo, held at Drill Hall
25th July 1964 Mayoress of Lostwithiel Mrs Hutchings, held at Drill Hall
7th November 1964 - opened by Mrs Miles-Brown, held at Drill Hall
31st July 1965 - opened by Mrs Miller (St Austell), held at Drill Hall
6th November 1965 - opened by Mayoress of Lostwithiel Mrs Hutchings, held at Drill Hall
30th July 1966 - opened by Mrs Farlimen (?), held at Drill Hall
5the November 1966 - opened by Mrs B.P.King, held at Drill Hall
July 1967 - opened by Mrs Kilson, held at Drill Hall
November 1967 - opened by Rev B.Warner, held at Drill Hall
July 1968 - opened by Mayoress of Lostwithiel Mrs Furze, held at Church Rooms
2nd November 1968 - opened by unknown 'Man', held at Church Rooms
July 1969 - opened by Mr R. Stephens, held at Church Rooms
1st November 1969 - opened by Mrs Anderson, held at Church Rooms
25th July 1970 - opened by Mrs Spencer-Brown, held at Church Rooms
November 1970 - opened by Mrs Keast, held at Church Rooms
July 1971 - opened by Mrs Brewer, held at Church Rooms
November 1971 - opened by Mrs Mayall, held at Church Rooms
July 1972 - opened by Mayoress of Lostwithiel Mrs V.Jewels, held at Church Rooms
November 1972 - opened by Mr Hutchings, held at Church Rooms
July 1973 - opened by Mrs Hexter, held at Church Rooms
28th October 73 - opened by Mr Dumbarton, held at Church Rooms
July 1974 - opened by Mayoress of Lostwithiel Mrs Mayall, held at Church Rooms
November 1974 - opened by Mrs Brewer, held at Church Rooms
July 1975 - opened by Mr Wilfred Jeffery, held at Church Rooms
1st November 1975 - opened by Mayor of Lostwithiel R.Isaacs, held at Church Rooms
July 1976 - opened by unknown, held at Church Rooms
November 1976 - opened by Mr Hawken, held at Church Rooms
July 1977 - opened by Captain Fortescue, held at Church Rooms
November 1977 - opened by Comander Harry Kerr, held at Church Rooms
July 1978 - opened by unknown, held at Church Rooms
November 1978 - opened by unknown, held at Church Rooms
July 1979 - opened by Mr M. Williams (headteacher town school), held at Church Rooms
November 1979 - opened by Mr J.Toft (headteacher St Winnow school), held at Church Rooms
July 1980 - opened by Mr Eric Baker, held at Church Rooms
1st November 1980 - opened by Mayor of Lostwithiel Mr Jeffery, held at Church Rooms
July 1981 - opened by Mayor of Lostwithiel, held at Church Rooms
7th November 1981 - opened by Mayoress or Lostwithiel Ruth Brewer, held at Church Rooms
July 1982 - opened by unknown, held at Church Rooms
November 1982 - opened by Mr Penvose, held at Church Rooms
July 1983 - opened by unknown, held at Church Rooms
November 1983 - NOT CERTAIN IT TOOK PLACE
22nd September 1984 - opened by Mayor of Lostwithiel Gwen Powell-Jones, held at Church Rooms
September 1985 - opened by Mr Toft, held at Church Rooms
13th September 1986 - opened by unknown Lostwithiel Community Association